TEMPERAMENTAL DIMENSIONS AMONG YOUNG STUTTERERS AND TYPICALLY DEVELOPING CHILDREN
Keywords:
Children, Effortful control, Inhibition, Stuttering, Temperament
Abstract
Objective: To compare the temperamental characteristics of children who stutter with those who do not stutter.
Study Design: Comparative cross-sectional study.
Place and Duration of Study: Ayub Medical Complex, Abbottabad, from Jun to Nov 2018.
Methodology: We recruited 120 children of both genders aged 3-8 years. Sample recruited included two groups including 60 children with stuttering (CWS) and 60 children with no stuttering (CWNS), using consecutive sampling. After taking consent, data was gathered using demographic sheet and Children Behavioral Questionnaire (CBQ) from the sample population. Statistical analysis was done using SPSS-21.
Results: The sample included 82 (68.3% males and 38 (31.7%) female children. t-test results of children with stuttering and children with no stuttering showed statistically significant difference for effortful control (p<0.05) including dimension of inhibitory control, low intensity pleasure and perceptual sensitivity. However, the values for Surgency Extraversion and Negative affectivity were not statistically significant though results showed higher and lower mean scores respectively for stutterers compared to non-stutterers. However, the dimensions of anger, frustration, discomfort and falling reactivity showed statistically significant difference (p<0.05).
Conclusion: Children with stuttering and children with no stuttering differ in their temperamental characteristics with statistically significant difference for effortful control with lower control in stutterers.
Downloads
Download data is not yet available.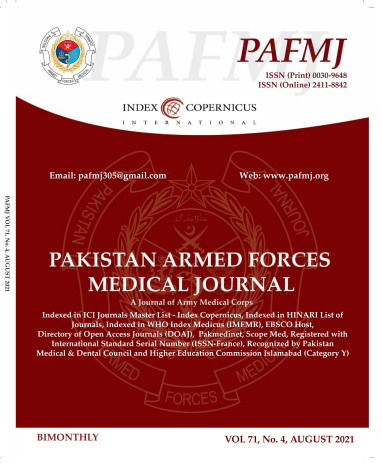 Downloads
How to Cite
Mushtaq, Z., Mumtaz, N., & Saqulain, G. (2021). TEMPERAMENTAL DIMENSIONS AMONG YOUNG STUTTERERS AND TYPICALLY DEVELOPING CHILDREN. Pakistan Armed Forces Medical Journal, 71(Suppl-3), S471–75. https://doi.org/10.51253/pafmj.v1i1.3758
Section
Original Articles