Efficacy of Topical 2% Clindamycin Gel Versus 5% Nicotinamide Gel in Patients with Mild to Moderate Acne
Nida Qayyum

Combined Military Hospital Quetta/National University of Medical Sciences (NUMS) Pakistan

Asher Ahmed Mashhood

Combined Military Hospital/National University of Medical Sciences (NUMS) Rawalpindi Pakistan

Adeela Farid

Combined Military Hospital/National University of Medical Sciences (NUMS) Rawalpindi Pakistan

Muhammad Azam

Sayyida Komal

Combined Military Hospital/National University of Medical Sciences (NUMS) Rawalpindi Pakistan

Hina Syeda

Combined Military Hospital Quetta/National University of Medical Sciences (NUMS) Pakistan
Keywords:
Acne, 2% Clindamycin gel, Efficacy, 5% Nicotinamide gel
Abstract
Objective: To compare the efficacy of topical 5% Nicotinamide gel versus 2% Clindamycin gel in patients with mild to moderate acne.
Study Design: Comparative cross-sectional study.
Place and Duration of Study: Department of Dermatology, Combined Military Hospital, Quetta Pakistan, from Jan to Jun 2019.
Methodology: Patients with mild to moderate acne were enrolled in the study. A total of 372 patients were randomly and equally divided into two groups, Group-A (Clindamycin) and Group-B (Nicotinamide). Response to treatment was graded according to Acne Global Severity Score. Scoring was done in both groups at the start and after eight weeks of therapy.Therapy was considered efficacious if there was at least 2 step improvement in post-therapy scores compared to pre-therapy scores.
Results: Total number of patients included was 372. Group-A (Clindamycin-Group) had 186 patients, of which 67 were males,and 119 were females. In Group-B (Nicotinamide-Group), out of 186 patients, 62 were males, and 124 were females. Regarding the treatment results, Clindamycin was found to be 31% efficacious, whereas the efficacy of Nicotinamide was 34.7% (pvalue=0.127).
Conclusion: There is no significant difference in the efficacy of Clindamycin and Nicotinamide in treating mild to moderate acne.
Downloads
Download data is not yet available.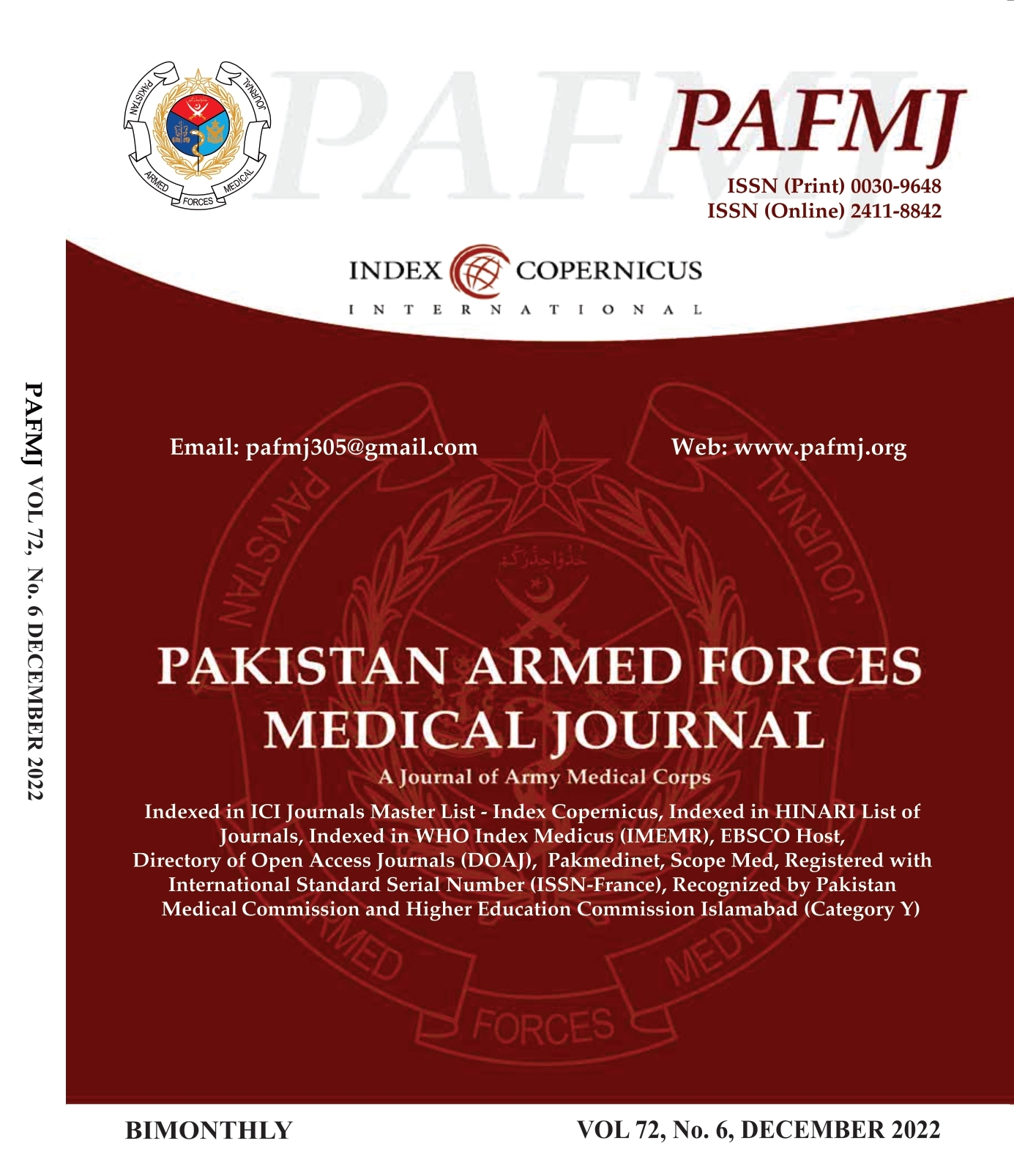 How to Cite
Qayyum, N., Mashhood, A. A., Farid, A., Azam, M., Komal, S., & Syeda, H. (2022). Efficacy of Topical 2% Clindamycin Gel Versus 5% Nicotinamide Gel in Patients with Mild to Moderate Acne. Pakistan Armed Forces Medical Journal, 72(6), 1899-1902. https://doi.org/10.51253/pafmj.v72i6.3743
Section
Original Articles