FREQUENCY OF INCREASED PLASMA C-PEPTIDE LEVELS IN COLORECTAL CANCER PATIENTS
Muhammad Hasan Saleem

Combined Military Hospital Kharian/National University of Medical Sciences (NUMS) Pakistan

Shazia Nisar

Pak Emirates Military Hospital/National University of Medical Sciences (NUMS) Rawalpindi Pakistan

Muhammad Zulqurnain Saleem

Combined Military Hospital Kharian/National University of Medical Sciences (NUMS) Pakistan

Husnain Saleem

Combined Military Hospital Peshawar/National University of Medical Sciences (NUMS) Pakistan

Shoaib Mukhtar

Armed Forces Institute of Rehabilitation Medicine/ National University of Medical Sciences (NUMS) Rawalpindi Pakistan

Muhammad Anjum

Combined Military Hospital Kharian/National University of Medical Sciences (NUMS) Pakistan
Keywords:
Colorectal cancer, C-peptide, dense energy, IGF binding protein-1
Abstract
Objective: To assess the increased frequency of serum C-peptide levels in patients of colorectal carcinoma.
Study Design: Cross sectional study.
Place and Duration of Study: Combined Military Hospital, Rawalpindi Pakistan, from Jul 2018 to Jan 2019.
Methodology: A total of 100 cases of colorectal carcinoma were enrolled. Blood samples were obtained to assess C-peptide level. The C-peptide serum concentrations were deliberate through the Cobas 6000 by using the electro-chemi-luminescence immunoassay (ECLIA) method. If level of C-peptide was >2 pmol/mL, then it was noted.
Results: The mean age of all patients was 58.3 ± 5.4 years. There was a total of 136 (68%) females and 64 (32%) were males. The mean BMI of patients was 28.96 ± 12.31 kg/m2. The family history of colorectal carcinoma was positive in 6 (6%) cases. The mean C-peptide level was 4.55 ± 2.37 pmol/L. There were 33 (33%) patients with raised C-peptide level while 67 (67%) had normal c-peptide level.
Conclusion: It is concluded that increased C-peptide level is high in patients with colorectal cancer.
Downloads
Download data is not yet available.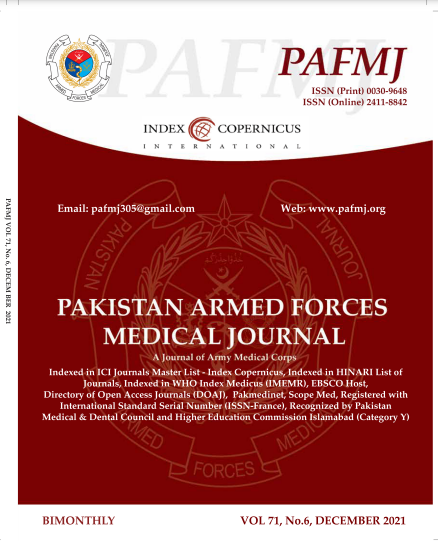 How to Cite
Saleem, M., Nisar, S., Saleem, M., Saleem, H., Mukhtar, S., & Anjum, M. (2021). FREQUENCY OF INCREASED PLASMA C-PEPTIDE LEVELS IN COLORECTAL CANCER PATIENTS. Pakistan Armed Forces Medical Journal, 71(6), 2180-83. https://doi.org/10.51253/pafmj.v71i6.3685
Section
Original Articles