COMPARISON OF FREQUENCY OF ABNORMAL FETAL HEART RATE IN CONTINUOUS VERSUS DISCONTINUOUS USE OF OXYTOCIN INFUSION FOR AUGMENTATION OF LABOUR
Mehwish Anjum

Combined Military Hospital Lahore/National University of Medical Sciences (NUMS) Pakistan

Nilofar Mustafa

CMH Lahore Medical College, Lahore/National University of Medical Sciences (NUMS) Pakistan

Qurratulain Mushtaq

CMH Lahore Medical College, Lahore/National University of Medical Sciences (NUMS) Pakistan

Pakeza Aslam

CMH Lahore Medical College, Lahore/National University of Medical Sciences (NUMS) Pakistan

Saima Qamar

CMH Lahore Medical College, Lahore/National University of Medical Sciences (NUMS) Pakistan

Riffat Sarwar

CMH Lahore Medical College, Lahore/National University of Medical Sciences (NUMS) Pakistan
Keywords:
Fetal, Heart rate, Oxytocin, Uterine contraction
Abstract
Objective: To compare the frequency of abnormal fetal heart rate in continuous versus discontinuous use of oxytocin infusion for augmentation of labour.
Study Design: Comparative cross sectional study.
Place and Duration of Study: Department of Obstetrics and Gynaecology, Combined Military Hospital Lahore, from Feb to Aug 2018.
Methodology: After fulfilling the inclusion criteria, 76 patients were equally divided in two groups A and B. In both groups, at 3 cm dilatation, intravenous infusion of 5 IU oxytocin in 500 cc normal saline was initiated at infusion rate 3.3mIU/minute Carditocography was initiated 10 minutes before infusion and then continued. An increment in infusion of 3.3mIU/minute was done every 20 minutes till 4 to 5 contractions in 10 minutes were achieved. After this, no more increment was done. The maximum rate was 30mIU/minute. Once cervix was 5 cm dilated, infusion was continued in group A and discontinued in group B for 2 hours. Fetal heart rate was noted on cardiotocography from 20 minutes before initiation of infusion till 2 hours after 5cm.
Results: Age of the patients was 25.4 ± 3.5 years in group A and 26.1 ± 2.4 years in group B. Mean gestation age was 39.2 ± 1.1 weeks in group A and 38.6 ± 1.3 weeks in group B. Group A had significantly more abnormal fetal heart rate compared to group B (p=0.016).
Conclusion: Discontinuous oxytocin infusion in labour showed significantly less abnormal fetal heart rate compared to continuous oxytocin infusion (p=0.016).
Downloads
Download data is not yet available.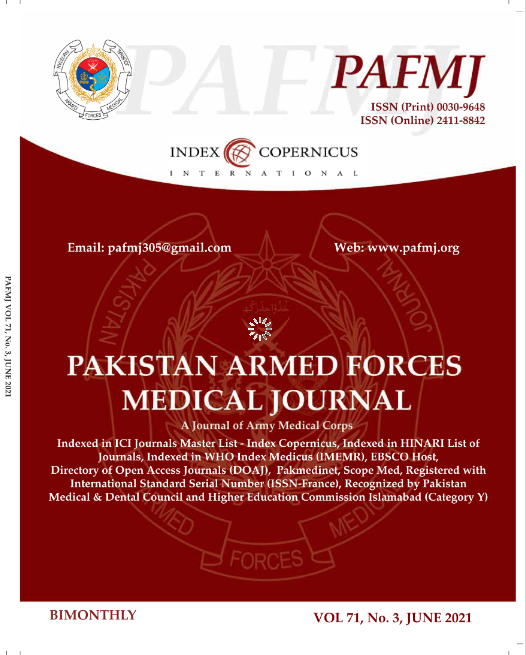 How to Cite
Anjum, M., Mustafa, N., Mushtaq, Q., Aslam, P., Qamar, S., & Sarwar, R. (2021). COMPARISON OF FREQUENCY OF ABNORMAL FETAL HEART RATE IN CONTINUOUS VERSUS DISCONTINUOUS USE OF OXYTOCIN INFUSION FOR AUGMENTATION OF LABOUR. Pakistan Armed Forces Medical Journal (PAFMJ), 71(3), 836-39. https://doi.org/10.51253/pafmj.v71i3.3680
Section
Original Articles