A COMPARATIVE STUDY ON EFFECT OF ENDOGENOUS AND EXOGENOUS ECZEMA ON QUALITY OF LIFE
Najia Ahmed

Pak Emirates Military Hospital/National University of Medical Sciences (NUMS) Rawalpindi Pakistan

Ayesha Chaudhary

Pak Emirates Military Hospital/National University of Medical Sciences (NUMS) Rawalpindi Pakistan

Moizza Tahir

Pak Emirates Military Hospital/National University of Medical Sciences (NUMS) Rawalpindi Pakistan

Sana Zahid Toor

Army Medical College/National University of Medical Sciences (NUMS) Rawalpindi Pakistan

Madiha Ghaffar

Army Medical College/National University of Medical Sciences (NUMS) Rawalpindi Pakistan

Usman Ali

Army Medical College/National University of Medical Sciences (NUMS) Rawalpindi Pakistan

Zahar Iqbal Shaikh

Army Medical College/National University of Medical Sciences (NUMS) Rawalpindi Pakistan
Keywords:
Endogenous eczema, Exogenous eczema, Quality of life
Abstract
Objective: To compare the effect of endogenous and exogenous eczema on quality of life using Dermatology Life Quality Index.
Study Design: Cross- sectional comparative study.
Place and Duration of Study: Dermatology Department, Pak Emirates Military Hospital Rawalpindi, for a period of 6 months, from Jan to Jul 2017.
Methodology: A predesigned DLQI questionnaire was distributed to 323 patients and data was collected by non-probability consecutive sampling. DLQI of endogenous and exogenous eczema was compared and data was analyzed by using SPSS version 22.
Results: Out of 323 patients, 145 (44.9%) were males and 178 (51.5%) were females. The mean age was 32.35 ± 13 years. Endogenous eczema was present in 194 (60%) patients while 129 (40%) patients had exogenous eczema. The mean DLQI score of endogenous eczema was 12.25 ± 7.76 and that of exogenous eczema was 10.36 ± 6.08 with p-value of 0.021 which was less than 0.05 and therefore significant.
Conclusion: Endogenous eczema had considerably more negative impact on quality of life as compared to exogenous eczema.
Downloads
Download data is not yet available.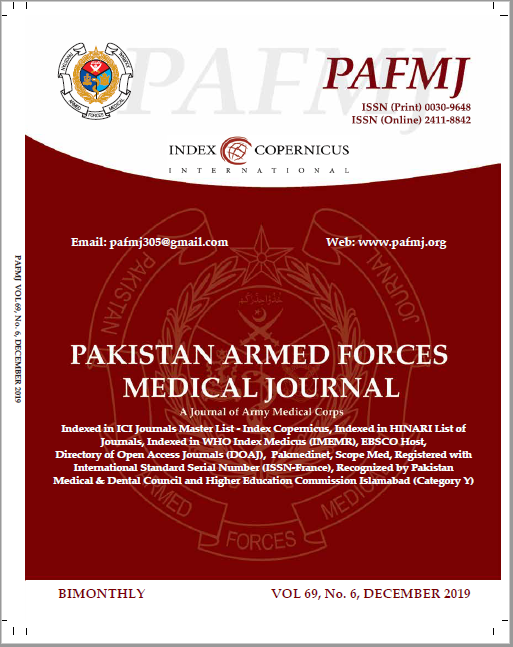 How to Cite
Ahmed, N., Chaudhary, A., Tahir, M., Toor, S., Ghaffar, M., Ali, U., & Shaikh, Z. (2019). A COMPARATIVE STUDY ON EFFECT OF ENDOGENOUS AND EXOGENOUS ECZEMA ON QUALITY OF LIFE. Pakistan Armed Forces Medical Journal, 69(6), 1330-34. Retrieved from https://pafmj.org/index.php/PAFMJ/article/view/3660
Section
Original Articles