RETINAL GANGLION CELL COMPLEX CHANGES ON OPTICAL COHERENCE TOMOGRAPHY AFTER PANRETINAL PHOTOCOAGULATION FOR TREATMENT OF PROLIFERATIV
Muhammad Shaheer

Lahore General Hospital, Lahore Pakistan

Arooj Amjad

Lahore General Hospital, Lahore Pakistan

Asima Rafique

Lahore General Hospital, Lahore Pakistan
Keywords:
Ganglion cell complex, Optical coherence tomography, Panretinal photocoagulation
Abstract
Objective: To study the changes in ganglion cell complex as measured on Optical coherence tomography after panretinal photocoagulation for the treatment of diabetic retinopathy.
Study Design: Quasi experimental study.
Place and Duration of Study: Department of Ophthalmology, Lahore General Hospital, Lahore from Apr 2017 to May 2018.
Methodology: Patients presenting to the Eye Out-patient department Lahore General Hospital were assessed for inclusion and exclusion criteria. All patients (n=38) diagnosed with proliferative diabetic retinopathy requiring panretinal photocoagulation were included in study. Retinal ganglion cell complex thickness was measured in superior, inferior, superonasal, supero-temporal, inferonasal and inferotemporal quadrants. besides that signal strength on Optical coherence tomography was also documented. Pre-operatively, visual acuity was measured and Optical coherence tomography performed and the findings were recorded on a designed proforma. Post-operatively, the patients were called for follow-up after one monthand three months at which time Visual acuity was again measured and Optical coherence tomography performed and findings recorded in the proforma. All the lasers were performed by single surgeon.
Results: The thickness of ganglion cell complex decreased from 83.18 ± 3.83μm to 80.55 ± 3.58μm three months after panretinal photocoagulation. The decrease in ganglion cell complex thickness was statistically significant (p<0.001).
Conclusion: Panretinal photocoagulation leads to a decrease in thickness of retinal ganglion cell complex on optical coherence tomography.
Downloads
Download data is not yet available.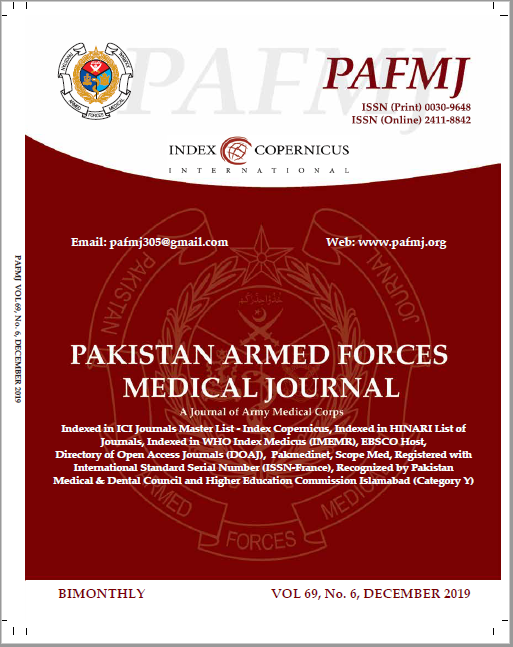 How to Cite
Shaheer, M., Amjad, A., & Rafique, A. (2019). RETINAL GANGLION CELL COMPLEX CHANGES ON OPTICAL COHERENCE TOMOGRAPHY AFTER PANRETINAL PHOTOCOAGULATION FOR TREATMENT OF PROLIFERATIV. Pakistan Armed Forces Medical Journal, 69(6), 1325-29. Retrieved from https://pafmj.org/index.php/PAFMJ/article/view/3659
Section
Original Articles