ACCURACY OF ULTRASOUND IN DETECTION OF ANTERIOR CRUCIATE LIGAMENT TEAR OF KNEE IN CCOMPAISON TO MAGNETIC RESONANCE IMAGING
Adil Qayyum

Combined Military Hospital Multan/National University of Medical Sciences (NUMS) Pakistan

Ruqqaya Adil

Combined Military Hospital Multan/National University of Medical Sciences (NUMS) Pakistan

Zafar Amin

Combined Military Hospital Bahawalpur/National University of Medical Sciences (NUMS) Pakistan

Adeel Azhar

Combined Military Hospital Multan/National University of Medical Sciences (NUMS) Pakistan

Tariq Aziz

Combined Military Hospital Multan/National University of Medical Sciences (NUMS) Pakistan

Sarah Khan

Combined Military Hospital Multan/National University of Medical Sciences (NUMS) Pakistan
Keywords:
Anterior cruciate ligament injury, Knee joint injury, Magnetic resonance imaging, Ultrasonography
Abstract
Objective: To determine the accuracy of ultrasound in detection of anterior cruciate ligament injury.
Study Design: Cross sectional validation study.
Place and Duration of Study: This study was carried out at Radiology department, Combined Military Hospital (CMH) Multan, from Nov 2017 to Jul 2018.
Methodology: Patients of both genders, 15 to 30 years age who sustained trauma to knee with clinical suspicion of anterior cruciate ligament (ACL) injury referred for magnetic resonance imaging (MRI) were include in the study. Ultrasound of knee was performed through ventral knee approach, followed by dynamic scan with ventral translation of tibia and findings for anterior cruciate ligament tear were recorded. This was followed by MRI and anterior cruciate ligament injury was documented.
Results: A total of 59 patients were referred from Orthopedic department of CMH Multan with clinical suspicion of anterior cruciate ligament tear for magnetic resonance imaging of knee. Ultrasound depicted positive results in 42 patients while magnetic resonance imaging scan confirmed presence of anterior cruciate ligament tear in 48 patients. Accuracy of ultrasound taking magnetic resonance imaging as gold standard was calculated to be 86.4%. Positive and negative predictive values, sensitivity and specificity were calculated. The comparison of results of ultrasound and magnetic resonance imaging showed statistically insignificant difference between the two imaging modalities (p≤0.001).
Conclusion: When combined with dynamic scanning, ultrasound was found a reliable diagnostic investigation due to its easily availability, high diagnostic accuracy and least invasive investigation for early diagnosis and prompt management.
Downloads
Download data is not yet available.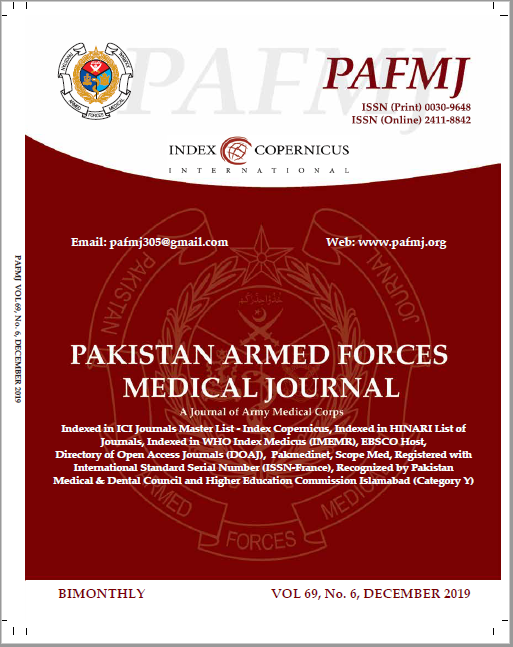 How to Cite
Qayyum, A., Adil, R., Amin, Z., Azhar, A., Aziz, T., & Khan, S. (2019). ACCURACY OF ULTRASOUND IN DETECTION OF ANTERIOR CRUCIATE LIGAMENT TEAR OF KNEE IN CCOMPAISON TO MAGNETIC RESONANCE IMAGING. PAFMJ, 69(6), 1315-19. Retrieved from https://pafmj.org/index.php/PAFMJ/article/view/3657
Section
Original Articles