IMPACT AND COMPARISON OF PREGNANCY INDUCED HYPERTENSION AND OBESITY ON FETAL AND MATERNAL OUTCOME
Umbreen Akram

Combined Military Hospital Kharian Pakistan

Samina Naseem Khattak

Combined Military Hospital Kharian Pakistan

Ommia Kalsoom

Women Medical and Dental College, Abottabad Pakistan

Adila Anwar

PAF Base Mansoor, Karachi Pakistan

Tahir Ahmad Munir

Mohi-Ud-Din Islamic Medical College, Mirpur Pakistan
Abstract
Objective: To study the Impact and Comparison of Pregnancy Induced Hypertension and Obesity on Fetal and Maternal Outcome in our set up.
Study Design: Comparative cross sectional study.
Place and Duration of Study: Combined Military Hospital Kharian, from May 2017 to May 2018.
Methodology: A total of 210 pregnant women were divided into healthy, overweight and obese groups according to WHO classification and normal, mild to moderate and severe hypertensive groups on blood pressure basis. The maternal and neonatal morbidity including Disseminated Intravascular Coagulation, post prandial hemorrhage, eclampsia, acute renal failure, birth weight, small for gestation, admission to Neonatal Intensive Care Unit or neonatal death were recorded.
Results: The mean age was 26.15 ± 3.22 years, mean blood pressure 128.57 ± 10.09/86.91 ± 5.89 mmHg, and mean BMI 21.33 ± 2.52. Most female were between 25-30 years age, were house wife, and delivered by spontaneous vaginal delivery. Among severe pregnancy induced hypertension and obese women, eclampsia (16.7% vs. 13%), Disseminated Intravascular Coagulation (25% vs. 13%), and maternal mortality (5.6% vs. 8.6%) was seen respectively, while neonatal morbidity including Neonatal Intensive Care Unit admissions (38.9% vs. 52.2%), small for gestation (25% vs. 30.4%), low birth weight (13.9% vs. 13%), and death (11.1% vs. 13%) respectively.
Conclusion: The obese women showed a higher fetal (small for gestation, neonatal intensive care unitadmission and neonatal death) and maternal risk (acute renal failure, post-partum hemorrhage, Critical Care Unit admission, and maternal mortality) than women with severe pregnancy induced hypertension.
Downloads
Download data is not yet available.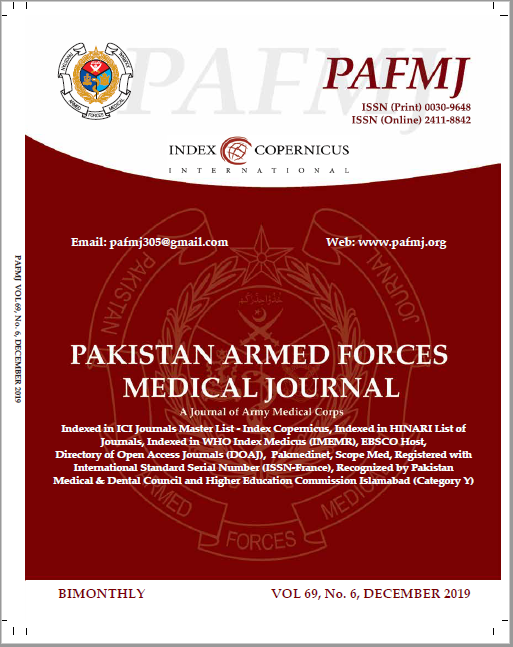 How to Cite
Akram, U., Khattak, S., Kalsoom, O., Anwar, A., & Munir, T. (2019). IMPACT AND COMPARISON OF PREGNANCY INDUCED HYPERTENSION AND OBESITY ON FETAL AND MATERNAL OUTCOME. PAFMJ, 69(6), 1309-14. Retrieved from https://pafmj.org/index.php/PAFMJ/article/view/3656
Section
Original Articles