COMPARISON OF INTRALESIONAL VITAMIN D3 VERSUS CRYOTHERAPY FOR MANAGEMENT OF PLANTAR WARTS
Farrah Yousaf

Combined Military Hospital Thal Pakistan

Naeem Raza

Pak Emirates Military Hospital/National University of Medical Sciences (NUMS) Rawalpindi Pakistan

Najia Ahmed

Pakistan Naval Ship, Shifa Karachi Pakistan

Sakina Sadiq

Combined Military Hospital/National University of Medical Sciences (NUMS) Rawalpindi Pakistan

Ayesha Anwar

Army Medical College/National University of Medical Sciences (NUMS) Rawalpindi Pakistan
Keywords:
Cryotherapy, Intralesional Success, Plantar warts, Vitamin-D3
Abstract
Objective: To compare the frequency of success of intralesional vitamin D3 versus cryotherapy for management of patients with plantar warts.
Study Design: Quasi experimental study.
Place and Duration of Study: Department of Dermatology, Pak Emirates Military Hospital, Rawalpindi, from Aug 2016 to Feb 2017.
Methodology: Total 60 patients, fulfilling the selection criteria, were included in the study. The patients were randomly divided in two groups by using lottery method. In group 1, Vitamin D3 was injected into the base of the warts after local anaesthetic agent, prilocaine. In group 2, cryotherapy was done by using a high-intensity regimen of one session every two weeks till 6 weeks. All patients were followed-up in Out-Patient Department (OPD) for 13 weeks. After 13 weeks, condition of warts was assessed. In case of complete resolution of warts, the success was labeled.
Results: In this study success rate of intralesional D3 was 63.3% and for cryotherapy success rate was 43.3% (p-value=0.121). Stratification of age and gender did not show any statistically significant difference between success rates of both treatment modalities. However patients with history of shorter duration ranging in between 11-15 days showed significant higher success rate for intralesional vitamin-D3 as compared to cryotherapy.
Conclusion: Frequency of success of intralesional vitamin-D3 was more than that of cryotherapy for treating planter warts.
Downloads
Download data is not yet available.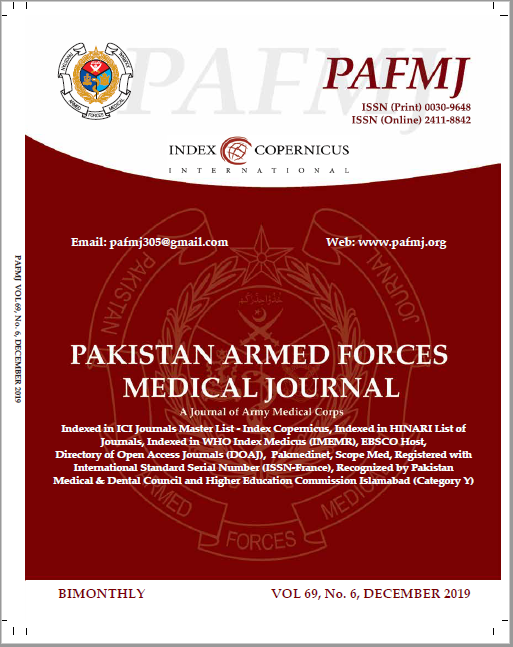 How to Cite
Yousaf, F., Raza, N., Ahmed, N., Sadiq, S., & Anwar, A. (2019). COMPARISON OF INTRALESIONAL VITAMIN D3 VERSUS CRYOTHERAPY FOR MANAGEMENT OF PLANTAR WARTS. Pakistan Armed Forces Medical Journal, 69(6), 1304-08. Retrieved from https://pafmj.org/index.php/PAFMJ/article/view/3655
Section
Original Articles