COMPARISON OF CORNEAL ENDOTHELIAL CELL DENSITY IN PATIENTS OF PSEUDOEXFOLIATION SYNDROME WITH NORMAL POPULATION
Pseudoexfoliation Syndrome
Saad Hassan Bhatti

Armed Forces Institute of Ophthalmology/National University of Medical Sciences (NUMS) Rawalpindi Pakistan

Sumayya Khan

Armed Forces Institute of Ophthalmology/National University of Medical Sciences (NUMS) Rawalpindi Pakistan

Inam Ul Haq Khan

Armed Forces Institute of Ophthalmology/National University of Medical Sciences (NUMS) Rawalpindi Pakistan,

Mohammad Asim Mehboob

Pakistan Naval Ship Shifa Hospital Karachi Pakistan

Muhammad Sheraz Tareen

Armed Forces Institute of Ophthalmology/National University of Medical Sciences (NUMS) Rawalpindi Pakistan

Shafaq Rabbani

Armed Forces Institute of Ophthalmology/National University of Medical Sciences (NUMS) Rawalpindi Pakistan
Keywords:
Corneal endothelial cell density, Intraocular surgery, Pseudoexfoliation syndrome
Abstract
Objective: To compare the corneal endothelial cell density in patients of Pseudoexfoliation syndrome (PXS) with normal healthy controls.
Study Design: Cross sectional comparative.
Place and Duration of Study: This study was carried out at Armed Forces Institute of Ophthalmology, Rawalpindi from Mar 2016 to Jan 2017.
Patients and Methods:Patients of PXS and healthy subjects of both genders between ages of 40 and 50 years, with best corrected visual acuity of 6/6 on snellen visual acuity chart were included in the study. All the participants including controls and PXS patients were subjected to ophthalmic clinical examination including corrected distance visual acuity, slit lamp examination by the single trainee researcher to exclude bias. Participants in both groups were evaluated for corneal endothelial cell density (ECD) by using non-contact, TOPCON SP 3000P Specular microscope. Sampling bias was eliminated by analyzing 100 cells in the center of each specular microscope photograph and mean of three readings was analyzed.
Results: Both the groups were similar with respect to gender and age. In our study sample there were 29 (58%) males in PXS group and 24 (48%) males in control group with no statistical significant (p-value > 0.05) difference between gender distributions of both groups. The mean age of the PXS group was 46.34 ± 2.932 years, and in control group was 45.54 ± 2.887 years (p-value >0.05). The mean value of ECD was found to be 2021.548 ± 528.142 cells/mm2 in PXS patients and the mean value of ECD in healthy subjects was noted to be 2772.692 ± 383.395 cells/mm2, showing significantly lower ECD in PXS cases. Similarly, significantly higher number of cases 22 (44%) had CED <2000 in PXS as compared to normal healthy subjects.
Conclusion: Corneal endothelial cell density decreases in patients of pseudoexfoliation syndrome and this must be considered while planning any intraocular surgery including cataract extraction.
Downloads
Download data is not yet available.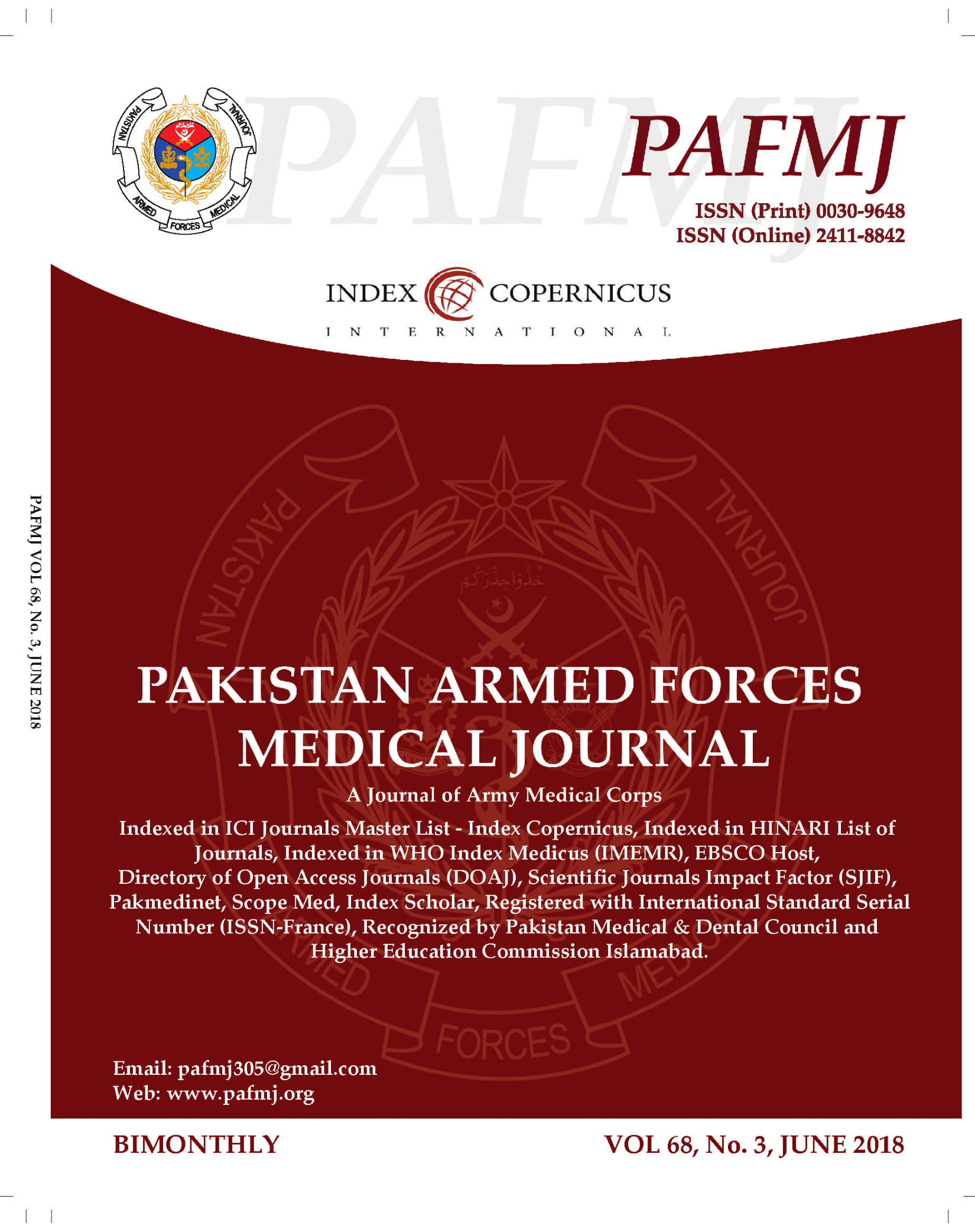 How to Cite
Bhatti, S. H., Khan, S., Khan, I. U. H., Mehboob, M. A., Tareen, M. S., & Rabbani, S. (2018). COMPARISON OF CORNEAL ENDOTHELIAL CELL DENSITY IN PATIENTS OF PSEUDOEXFOLIATION SYNDROME WITH NORMAL POPULATION. Pakistan Armed Forces Medical Journal (PAFMJ), 68(3), 521-25. Retrieved from https://pafmj.org/index.php/PAFMJ/article/view/365
Section
Original Articles