FUNCTIONAL OUTCOME OF ARTHROSCOPE ASSISTED RECONSTRUCTION OF ANTERIOR CRUCIATE LIGAMENT USING BONE-PATELLAR TENDON-BONE GRAFT
Syed Faraz Anwar

Combined Military Hospital Malir/National University of Medical Sciences (NUMS) Pakistan

Ahmed Mushtaq Khan

Combined Military Hospital, Kohat Pakistan

Anas Bin Saif

Combined Military Hospital, Kohat Pakistan

Syed Shehreyar Faraz

Bahria University Medical & Dental College, Karachi Pakistan
Keywords:
Anterior cruciate ligament reconstruction, Arthroscopic, Lysholm score, Patellar tendon bone graft
Abstract
Objective: To evaluate arthroscopic assisted Anterior Cruciate Ligament (ACL) reconstruction using Bone-Patellar Tendon-Bone (BPTB) graft using anteromedial approach to drill the femoral tunnel followed by accelerated ACL rehabilitation protocol in terms of Lysholm score.
Study Design: Prospective comparative study.
Place and Duration of Study: The study was conducted in Combined Military Hospital (CMH) Rawalpindi and Combined Military Hospital Malir, Pakistan, from Nov 2013 to Dec 2015.
Methodology: This study was an analysis of prospectively collected data of patients who had undergone Anterior Cruciate Ligament reconstruction. All patients below the age of 35 years presenting with Anterior Cruciate Ligament Grade 3 tear were assessed objectively and subjectively using Lysholm score pre and post operatively. Manual laxity of knee was assessed with anterior drawer and Lachman test; and being compared with normal contralateral knee. Rotational instability was assessed by pivot shift test.
Results: Nineteen patients, all males, were included in this study with the mean age of 26.7 ± 4.68 years. All patients underwent arthroscopic assisted Anterior Cruciate Ligament reconstruction with uneventful recovery. Every patient had his pre and post-operative Lysholm scoring done. Mean pre-operative Lysholm score was 53.89 ± 3.81. Patients were followed up at 5 months and at 9 months and their mean Lysholm scores were 84.74 ± 6.31and 92.47 ± 3.04 respectively with the p-value of <0.001. Only 2 patients had residual Grade I Lachman laxity and none of the patients had any rotational instability.
Conclusion: Arthroscopic assisted Anterior Cruciate Ligament reconstruction using Bone-Patellar Tendon-Bone graft followed by accelerated Anterior Cruciate Ligament rehabilitation protocol led to significant improvement of Lysholm score.
Downloads
Download data is not yet available.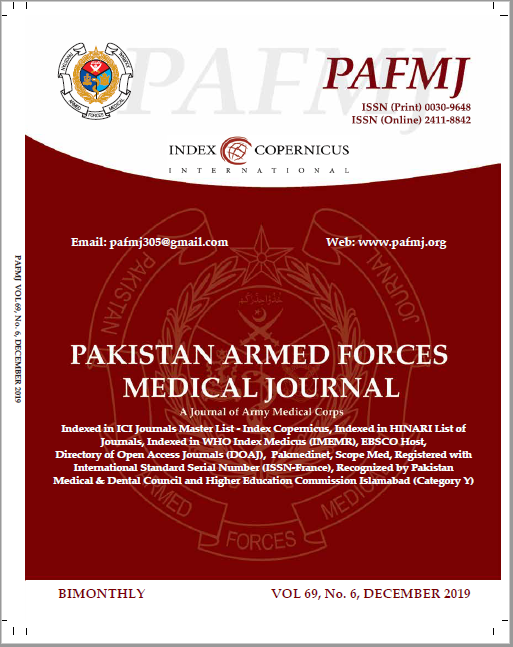 How to Cite
Anwar, S., Khan, A., Saif, A., & Faraz, S. (2019). FUNCTIONAL OUTCOME OF ARTHROSCOPE ASSISTED RECONSTRUCTION OF ANTERIOR CRUCIATE LIGAMENT USING BONE-PATELLAR TENDON-BONE GRAFT. PAFMJ, 69(6), 1672-77. Retrieved from https://pafmj.org/index.php/PAFMJ/article/view/3649
Section
Original Articles