COMPARISON OF CLINICAL CURE RATE FOR DOXYCYCLINE AND LEVOFLOXACIN IN TREATMENT OF ACUTE EXACERBATION OF CHRONIC OBSTRUCTIVE PULMONARY DISEASE
Keywords:
Acute exacerbations, Chronic obstructive pulmonary disease, Doxycycline, Effectiveness, Levofloxacin
Abstract
Objectives: To compare the clinical cure rate for doxycycline and levofloxacin in treatment of acute exacerbation of chronic obstructive pulmonary disease (AECOPD) and explore the response in relation to gender.
Study Design: Quasi-experimental study.
Place and Duration of Study: Department of Medicine, Pak Emirates Military Hospital Rawalpindi, from Nov 2015 to Jun 2016.
Methodology: In this study, indoor patients diagnosed with acute exacerbation of chronic obstructive pulmonary disease were enrolled through consecutive sampling and randomized into two groups through lottery method. Patients were randomly assigned to oral doxycycline 100 mg twice daily or oral levofloxacin 500 mg once daily for five days. The clinical and laboratory assessments of the patients were done on the 7th day to note response as clinical cure or clinical failure.
Results: Mean age of the sample was 52 ± 5.5 years. Clinical cure was observed in 156 (84.8%) patients. Cure rate was found to be significantly higher in levofloxacin group as compared to the doxycycline group (91.3% vs. 78.3% respectively) (p=0.014). Significantly higher cure rate was observed for levofloxacin than doxycycline in males (p=0.026). No significant difference in the cure rate was noticed among the two treatment groups in females (p=0.289).
Conclusion: Clinical cure rate for acute exacerbation of chronic obstructive pulmonary disease with levofloxacin was significantly higher in the sample as compared to doxycycline. The males from the sample showed similar difference in cure rate for the two drugs.
Downloads
Download data is not yet available.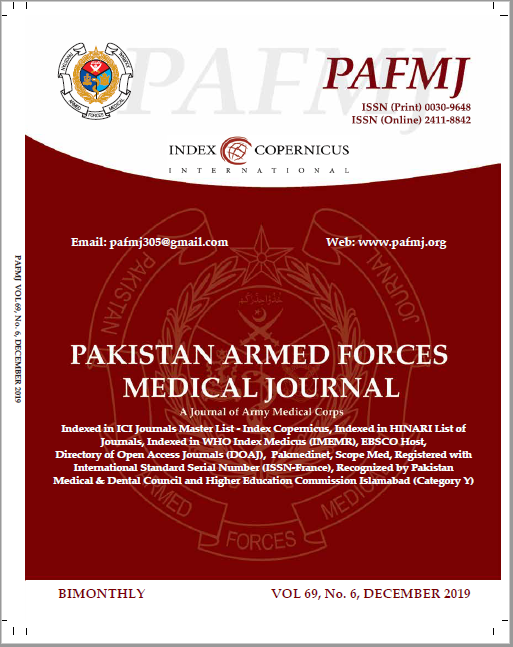 Downloads
How to Cite
Anjum, N., Yousaf, M. A., Ayaz, S. B., Khattak, A. L., Yousaf, M., & Yousaf, M. J. (2019). COMPARISON OF CLINICAL CURE RATE FOR DOXYCYCLINE AND LEVOFLOXACIN IN TREATMENT OF ACUTE EXACERBATION OF CHRONIC OBSTRUCTIVE PULMONARY DISEASE. Pakistan Armed Forces Medical Journal, 69(6), 1238–42. Retrieved from https://pafmj.org/PAFMJ/article/view/3642
Section
Original Articles