CONGESTIVE CARDIAC FAILURE CASES: CLINICAL PROFILE AND OUTCOME IN A PAEDIATRIC INTENSIVE CARE UNIT
Keywords:
Acute myocarditis, Congenital heart disease, Congestive cardiac failure, Dilated cardiomyopathy, Intensive care unit
Abstract
Objective: To study the characteristics of the acute heart failure patients admitted in paediatric intensive care unit of Pak Emirates Military Hospital Rawalpindi and record their outcomes in terms of mortality and discharge.
Study Design: Cross sectional study.
Place and Duration of Study: Pak Emirates Military Hospital Rawalpindi, Paediatric Intensive Care Unit (PICU). Study was conducted, from Sep 2017 to Mar 2017.
Methodology: All consecutive paediatric intensive care unit admissions with diagnosis of acute heart failure were prospectively studied till discharge or death. Following data was collected prospectively: regarding age; gender; diagnosis at the time of admission; the need for mechanical ventilation; paediatric intensive care unit length of stay and the outcome in terms of mortality and discharge. Descriptive statistics were calculated for all variables.
Results: During the study period 59 children were treated for heart failure. Admissions from the emergency department were 64.4%. The median age was 6 months. The leading cause of heart failure came out to be acute viral myocarditis (45.8%) followed by congenital heart diseases (39%). The average length of stay was 4.56 ± 1.62 (range 1 to 10 days). There were 13.6% of the patients who required mechanical ventilation. Out of the total 59 patients, 12 patients (20.3%) expired.
Conclusion: Congestive heart failure cases were found to be similar to the demographics reported earlier from Pakistan and other developing countries that included the Asian and African countries.
Downloads
Download data is not yet available.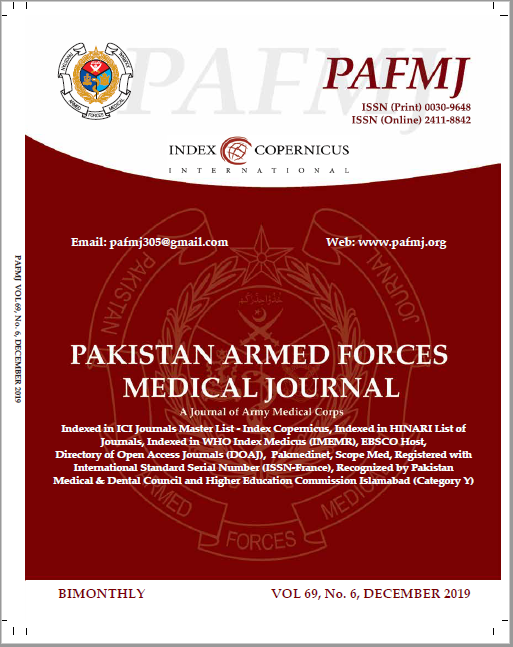 Downloads
How to Cite
Khan, Q. U. Z., Bahseer, F., Razzaq, A., Jalil, J., & Butt, A. I. (2019). CONGESTIVE CARDIAC FAILURE CASES: CLINICAL PROFILE AND OUTCOME IN A PAEDIATRIC INTENSIVE CARE UNIT. Pakistan Armed Forces Medical Journal, 69(6), 1233–37. Retrieved from https://pafmj.org/PAFMJ/article/view/3641
Section
Original Articles