PROTECTIVE EFFECT OF LIGNOCAINE AGAINST ACETYLCHOLINE AND BRADYKININ INDUCED TRACHEAL TISSUE CONTRACTION
Fatima Qasim Malik

Yusra Medical and Dental College, Islamabad Pakistan

Bushra Tayyaba Khan

Army Medical College/National University of Medical Sciences (NUMS) Rawalpindi Pakistan

Mahjabeen Sharif

Army Medical College/National University of Medical Sciences (NUMS) Rawalpindi Pakistan
Keywords:
Acetylcholine, Bradykinin, Isolated Forced Transducer, Isolated Trachea, Lignocaine
Abstract
Objective: To evaluate the protective effect of lignocaine against acetylcholine and bradykinin induced airway contraction of isolated tracheal tissue of guinea pig in vitro.
Study Design: Laboratory based quasi experimental study.
Place and Duration of Study: Pharmacology department in collaboration with Physiology Department at Army Medical College, Rawalpindi, from Jan 2016 to Oct 2016.
Methodology: Effects of cumulative doses of acetylcholine (10-6-10-3 M) and bradykinin (11μg -66 μg) in the presence of fixed dose of lignocaine (1mM) were observed on isolated tracheal smooth muscle of guinea pig by constructing cumulative dose response curves. Isometric Force Transducer DT-475 (USA) attached to Power Lab data Acquisition Unit, was used to record the tracheal smooth muscle contractions.
Results: Acetylcholine and bradykinin reversibly increased the tracheal muscle contractions of guinea pig. Maximum amplitude of contraction with acetylcholine and bradykinin alone & acetylcholine and bradykinin pretreated with lignocaine were 0.025 ± 0.0009 mV, 0.013 ± 0.0007 mV, 0.013 ± 0.0012 mV and 0.007 ± 0.0002 mV respectively. So lignocaine significantly ameliorated acetylcholine and bradykinin induced contraction.
Conclusion: Lignocaine significantly inhibited the constrictor response of acetylcholine and bradykinin. The percent inhibition was more for acetylcholine than for bradykinin induced tracheal tissue contraction. So it is suggested that lignocaine may be used as spinal anesthesia in asthmatic patients undergoing surgeries due to its bronchodilatory effects.
Downloads
Download data is not yet available.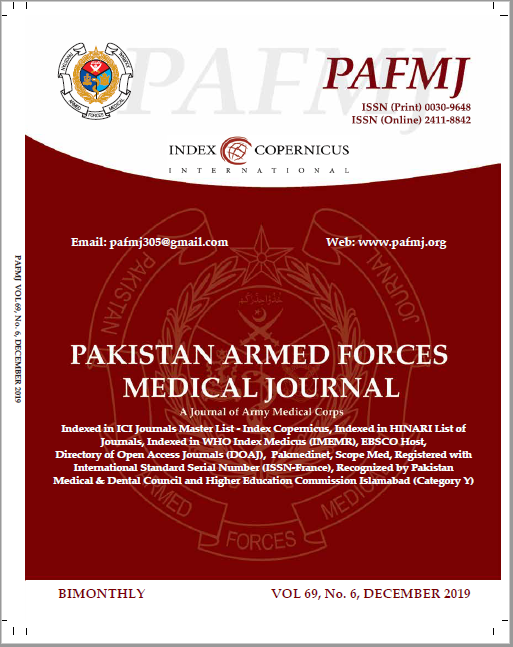 How to Cite
Malik, F., Khan, B., & Sharif, M. (2019). PROTECTIVE EFFECT OF LIGNOCAINE AGAINST ACETYLCHOLINE AND BRADYKININ INDUCED TRACHEAL TISSUE CONTRACTION. Pakistan Armed Forces Medical Journal, 69(6), 1222-26. Retrieved from https://pafmj.org/index.php/PAFMJ/article/view/3639
Section
Original Articles