CORREELATION BETWEEN MICRO-HARDNESS AND MINERAL CONTENT IN THE HEALTHY TOOTH ENAMEL OF HUMANS BELONGING TO DIFFERENT AGE GROUPS
Afsheen Manoor

Islamic International Dental College, Islamabad Pakistan

Faisal Moeen

Islamic International Dental College, Islamabad Pakistan

Mazhar Mehmood

Pakistan Institute of Engineering and Applied Sciences, Islamabad Pakistan

Syed Mujtaba Ul Hassan

Pakistan Institute of Engineering and Applied Sciences, Islamabad Pakistan

Muhammad Ubaid Ullah

Pakistan Institute of Engineering and Applied Sciences, Islamabad Pakistan

Talal Khan

Islamic International Dental College, Islamabad Pakistan
Keywords:
Enamel specimens, Energy dispersive x-ray spectroscopy, Mineral content, Vickers micro-hardness tester
Abstract
Objective: To find a linear relationship between micro-hardness and mineral content of the healthy tooth enamel which is particularly important in the clinical context.
Study Design: In-vitro experimental study.
Place and Duration of Study: This study was carried out at the Pakistan Institute of Engineering and Applied Sciences (PIEAS), from Jan 2019 to Mar 2019.
Methodology: This study was performed in-vitro in an experimental research laboratory with a controlled time series design. A total of 32 upper central incisors belonging to different age groups ranging from 21-60 years were extracted and categorized into four groups. The groups were named as A=21-30 years, B=31-40 years, C=41-50 years and D=51-60 years. The teeth of different age groups were utilized to make enamel specimens of 4 mm x 6 mm in poly-acrylic cylinders of 2 cm width and 3 cm height. These enamel specimens were finely polished. The enamel specimens were then evaluated for micro-hardness utilizing a Vickers micro-hardness tester. Eventually, the mineral content was analyzed with the help of energy dispersive x-ray spectroscopy. After that, the data attained was then assessed with a one-way analysis of variance.
Results: Tooth enamel of the younger age group ranging from 21-30 years exhibited the lowest Vickers micro-hardness and the mineral content. The level of Vickers micro-hardness and mineral content increased accordingly with age and was found to be highest in the tooth enamel of older age group ranging from 51-60 years.
Conclusion: The results demonstrated that the hardness of tooth enamel increases with age and is directly related to the mineral content.
Downloads
Download data is not yet available.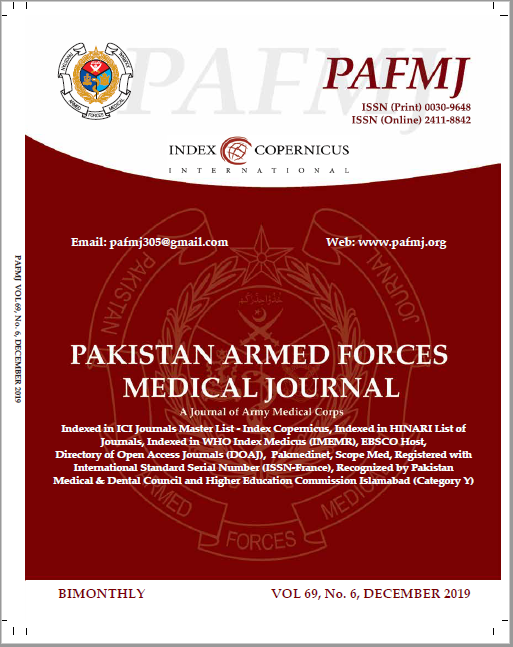 How to Cite
Manoor, A., Moeen, F., Mehmood, M., Hassan, S. M., Ullah, M., & Khan, T. (2019). CORREELATION BETWEEN MICRO-HARDNESS AND MINERAL CONTENT IN THE HEALTHY TOOTH ENAMEL OF HUMANS BELONGING TO DIFFERENT AGE GROUPS. Pakistan Armed Forces Medical Journal, 69(6), 1204-09. Retrieved from https://pafmj.org/index.php/PAFMJ/article/view/3636
Section
Original Articles