CONCORDANCE OF CYTOMORPHOOLGICAL FEATURES OF CERVICAL LYMPHADENITIS SUSPECTED FOR MYCOBACTERIUM TUBERCULOSIS ON FINE NEEDLE ASPIRATION BIOPSY WITH GENEXPERT FOR MYCOBACTERIUM TUBERCULOSIS ON ASPIRATED MATERIAL
Keywords:
Cervical lymphadenitis, Cytomorphological patterns, Fine needle aspiration, GeneXpert
Abstract
Objective: To correlate different cytomorphological presentations of cervical lymphadenitis suspected for Myco-bacterium Tuberculosis (MTB) on Fine Needle Aspiration Cytology (FNAC) with Mycobacterium Tuberculosis detection by geneXpert on aspirated material.
Study Design: Comparative, cross sectional study.
Place and Duration of Study: Department of Histopathology, Armed Forces Institute of Pathology Rawalpindi, Jan 2017 to Nov 2018.
Methodology: Fine needle aspirates of total 100 patients with cervical lymphadenitis suspected for Mycobac-terium Tuberculosis were included and the cytomorphology was compared with geneXpert. Data was analyzed using SPSS version 23.
Results: A total of 100 cases were included. A total of 78 cases were positive for Mycobacterium Tuberculosis while 22 cases were negative when compared with molecular analysis on aspirated material. Positivity for Mycobacterium Tuberculosis by geneXpert was seen in 93% of cases with both caseous necrosis and granulomas, 80% of cases with caseous necrosis only, 80% of cases having granulomas along with neutrophilic abscess, 70% of cases showing granulomas and 14% of cases with neutrophilic abscess (p-value<0.05). Sensitivity of Fine Needle Aspiration Cytology was 97% and specificity was 54%. Positive Predictive Value was 88% and Negative Predictive Value was 85%.
Conclusion: Mycobacterium Tuberculosis was detected by GeneXpert in a significant percentage of the Fine Needle Aspiration Cytology samples included in our study. Fine Needle Aspiration Cytology is a rapid, safe, easily available, minimally invasive, outpatient procedure and GeneXpert analysis can be performed on the aspirated material.
Downloads
Download data is not yet available.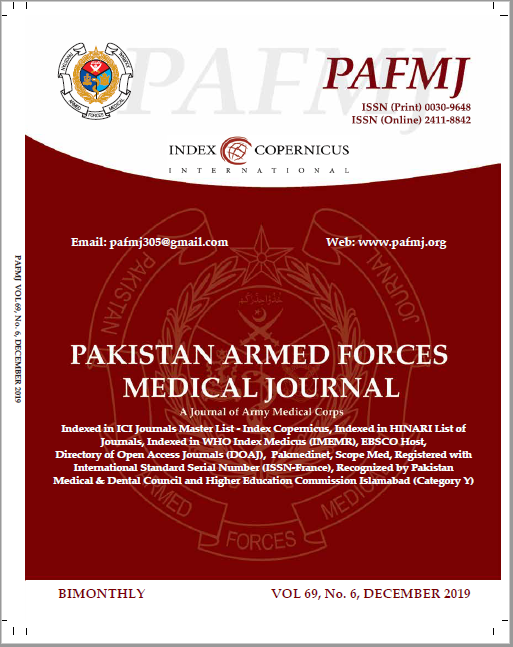 Downloads
How to Cite
Mansur, H., Asif, M., Khadim, M. T., Khan, I. M., Ahmad, R., Azhar, A., & Anwar, M. (2019). CONCORDANCE OF CYTOMORPHOOLGICAL FEATURES OF CERVICAL LYMPHADENITIS SUSPECTED FOR MYCOBACTERIUM TUBERCULOSIS ON FINE NEEDLE ASPIRATION BIOPSY WITH GENEXPERT FOR MYCOBACTERIUM TUBERCULOSIS ON ASPIRATED MATERIAL. Pakistan Armed Forces Medical Journal, 69(6), 1173–78. Retrieved from https://pafmj.org/index.php/PAFMJ/article/view/3628
Section
Original Articles