FREQUENCY OF ACUTE KIDNEY INJURY IN PATIENTS WITH TRAUMATIC INJURY ADMITED IN INTENSIVE CARE UNIT AND RELATIONSHIP OF SOCIO-DEMOGRAPHIC FACTORS
Keywords:
Acute kidney injury, Intensive care unit, Pakistan, Socio-demographic factors
Abstract
Objective: To determine the frequency of acute kidney injury (AKI) and impact of socio-demographic factors to it, among the patients of trauma at an intensive care unit (ICU) of a tertiary care hospital of Pakistan
Study Design: Perspective comparative study.
Place and Duration of Study: Combined Military Hospital (CMH) Peshawar, from Mar 2018 to Aug 2018.
Methodology: This study was conducted on patient admitted after a traumatic event in the intensive care unit of CMH Peshawar. On the basis of Global Outcome Clinical Practice Guidelines (KDIGO) patients admitted in intensive care unit were recruited. Demographic profile included age, gender, co-morbidity, use of mechanical ventilation and length of stay in the intensive care unit.
Results: A total of 102 patients were admitted in the intensive care unit with traumatic injuries during the study period. Out of them 33 (31.4%) were diagnosed with the acute kidney injury during the intensive care unit stay. Extremities were the commonest site of trauma among the target population followed by head and neck. Mean age of patients included in the study was 38.13 ± 4.925.
Conclusion: Long duration of intensive care unit stay was associated with the presence of acute kidney injury in our sample population.
Downloads
Download data is not yet available.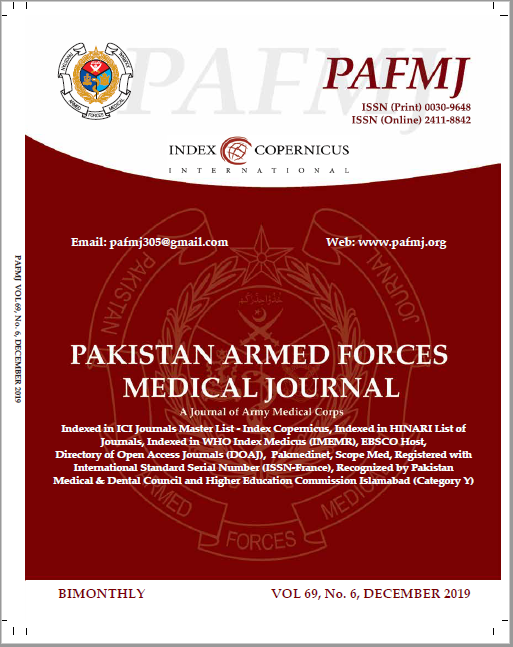 Downloads
How to Cite
Farukh, A., Baig, Z. F., Imran, M., Asghar, A., Shan, R. A., Ashraf, S., & Khan, A. (2019). FREQUENCY OF ACUTE KIDNEY INJURY IN PATIENTS WITH TRAUMATIC INJURY ADMITED IN INTENSIVE CARE UNIT AND RELATIONSHIP OF SOCIO-DEMOGRAPHIC FACTORS. Pakistan Armed Forces Medical Journal, 69(6), 1169–72. Retrieved from https://pafmj.org/index.php/PAFMJ/article/view/3627
Section
Original Articles