CORRELATION OF INTRAOCULAR PRESSURE WITH OCULAR AXIAL LENGTH AFTER INTRAVITREAL INJECTION OF BEVACIZUMAB IN DIABETIC MACULAR EDEMA
Diabetic Macular Edema
Sumayya Khan

Eye Specialist, Pakistan Naval Ship, Rahat Pakistan

Ahsan Mukhtar

Armed Forces Institute of Ophthalmology/National University of Medical Sciences (NUMS) Rawalpindi Pakistan

Mazhar Ishaq

Armed Forces Institute of Ophthalmology/National University of Medical Sciences (NUMS) Rawalpindi Pakistan

Rana Intisar Ul Haq

Armed Forces Institute of Ophthalmology/National University of Medical Sciences (NUMS) Rawalpindi Pakistan
Keywords:
Axial length, Diabetic macular edema, Intraocular pressure, Intravitreal bevacizumab
Abstract
Objective: To determine the effect of Intravitreal injection of Bevacizumab on IOP in eyes of different axial lengths.
Study Design: Cross sectional study.
Place and Duration of Study: This study was conducted at AFIO Rawalpindi, from Sep 2013 to Jan 2014.
Material and Methods: In this study 55 patients scheduled for intravitreal injection of bevacizumab for the treatment of diabetic macular edema were enrolled. An informed written consent was taken from all the patients. All patients underwent clinical ophthalmic examination including uncorrected distance visual acuity, corrected distance visual acuity, slit lamp bio-microscopy and fundus examination with 90 diopter lens. Axial length was measured before IVB using IOL master. Intra Ocular Pressure (IOP) was measured before and after 1 minute of administration of Intravitreal Bevacizumab (IVB) using Tono-Pen.
Result: The mean age of patients was 54.51 ± 7.53 years with minimum age of 43 years and maximum age of 70 years. There were 26 (47.3%) male and 29 (52.7%) female patients. The mean axial length of the examined eyes was 21.12 ± 1.80 with range of 6 mm. Mean IOP before IVB was 13.09 ± 1.62 mmHg. After 1 minute of IVB, mean IOP was 32.8 ± 6.19 mmHg. A good correlation was observed between the axial length and intraocular pressure rise after 1 min i.e. Pearson correlation (r.) = -0.914 (p-value <0.001) with R2 = 0.835.
Conclusion: There is significant rise in IOP after intravitreal injection of bevacizumab in patients with short axial length as compared to long axial length.
Downloads
Download data is not yet available.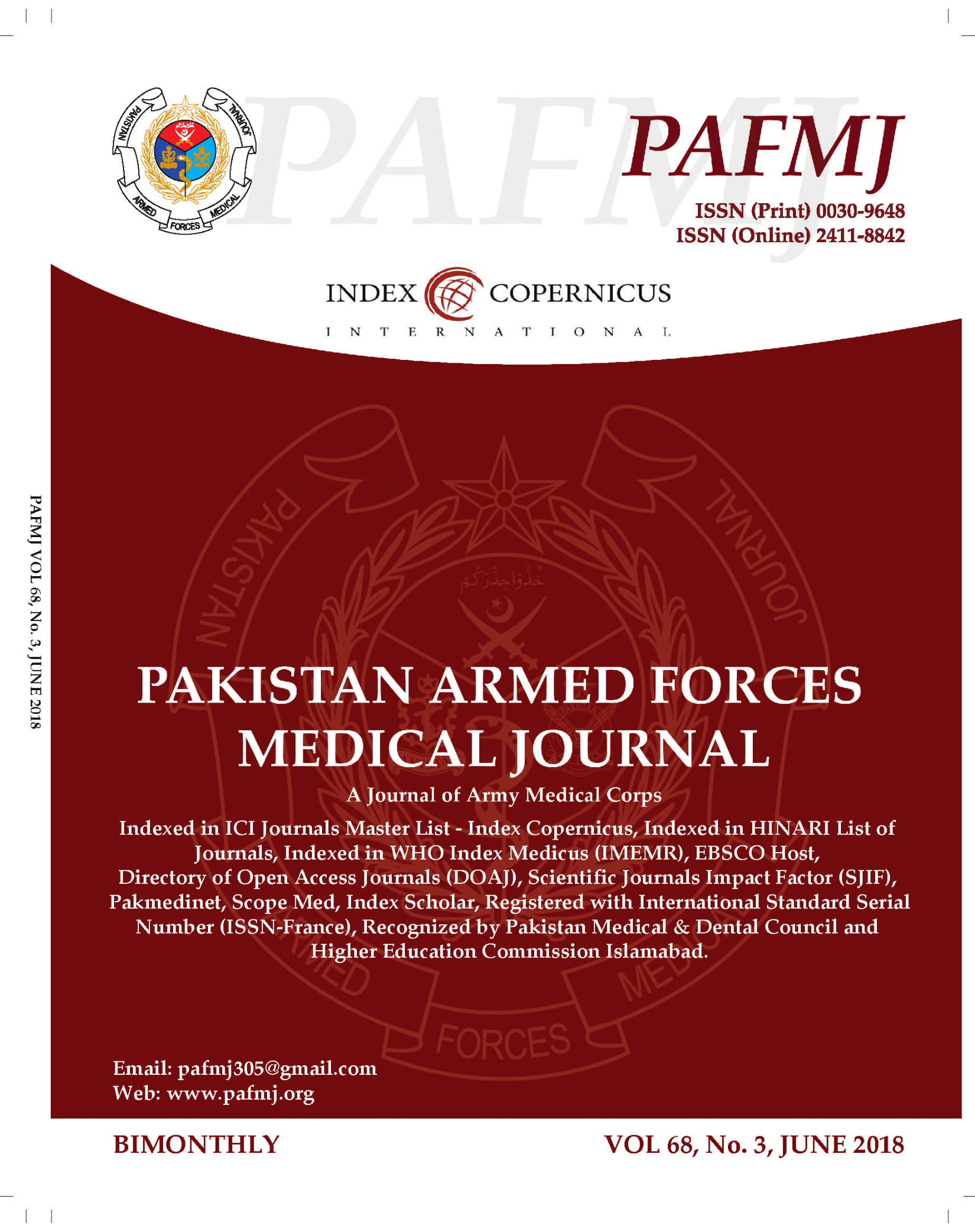 How to Cite
Khan, S., Mukhtar, A., Ishaq, M., & Haq, R. I. U. (2018). CORRELATION OF INTRAOCULAR PRESSURE WITH OCULAR AXIAL LENGTH AFTER INTRAVITREAL INJECTION OF BEVACIZUMAB IN DIABETIC MACULAR EDEMA. Pakistan Armed Forces Medical Journal (PAFMJ), 68(3), 515-20. Retrieved from https://pafmj.org/index.php/PAFMJ/article/view/362
Section
Original Articles