Comparison of Surgically Induced Astigmatism between Superior and Supero-Temporal Incisions in Manual Small Incision Cataract Surgery
Abdul Rauf

Combined Military Hospital Multan/National University of Medical Sciences (NUMS) Pakistan

Farooq Ahmad

Combined Military Hospital Chunian/National University of Medical Sciences (NUMS) Pakistan

Muhammad Bilal Malik

Combined Military Hospital Multan/National University of Medical Sciences (NUMS) Pakistan

Abdul Munim Khan

Poonch Medical College, Rawalakot Pakistan

Hussnain Abbas

Combined Military Hospital Multan/National University of Medical Sciences (NUMS) Pakistan

Ayesha Khan Suri

Combined Military Hospital Multan/National University of Medical Sciences (NUMS) Pakistan
Keywords:
Astigmatism, Cataract, Incision, Manual small incision, Surgically induced astigmatism
Abstract
Objective: To compare visual outcomes and differences in surgically induced astigmatism between superior and supero temporal incisions in manual small incision cataract surgery (MSICS).
Study Design: Quasi-experimental study.
Place and Duration of Study: Combined Military Hospital, Rawalakot Pakistan, from Jan to Jun 2017.
Methodology: Sixty patients were selected and divided into two groups of 30 patients each. One Group was given a superior incision, the other was made the supero-temporal incision, and Manual small incision cataract surgery was performed.Preoperative and postoperative visual acuity, keratometry and refractive data were collected for all patients. In addition,surgically induced astigmatism (SIA) was analysed using a line SIA calculator.
Results: The mean age of our patients was 59.57±10.13 years. Post-operatively, the visual acuity significantly improved in both groups. Mean induced astigmatism due to surgery came out to be 0.75±0.44 D for the superior incision and 0.45±0.18 D for the supero- temporal incision. The study found that in the Superior Incision-Group, induced astigmatism was slightly higher than in the Supero-Temporal-Group. Moreover, the Supero-Temporal-Group had a better uncorrected visual outcome than the Superior Incision-Group.
Conclusion: Overall, manual small incision cataract surgery has good visual outcomes. Manual small incision cataract surgery through supero-temporal incision was found to have a better visual outcome with less surgically induced astigmatism than the superior incision.
Downloads
Download data is not yet available.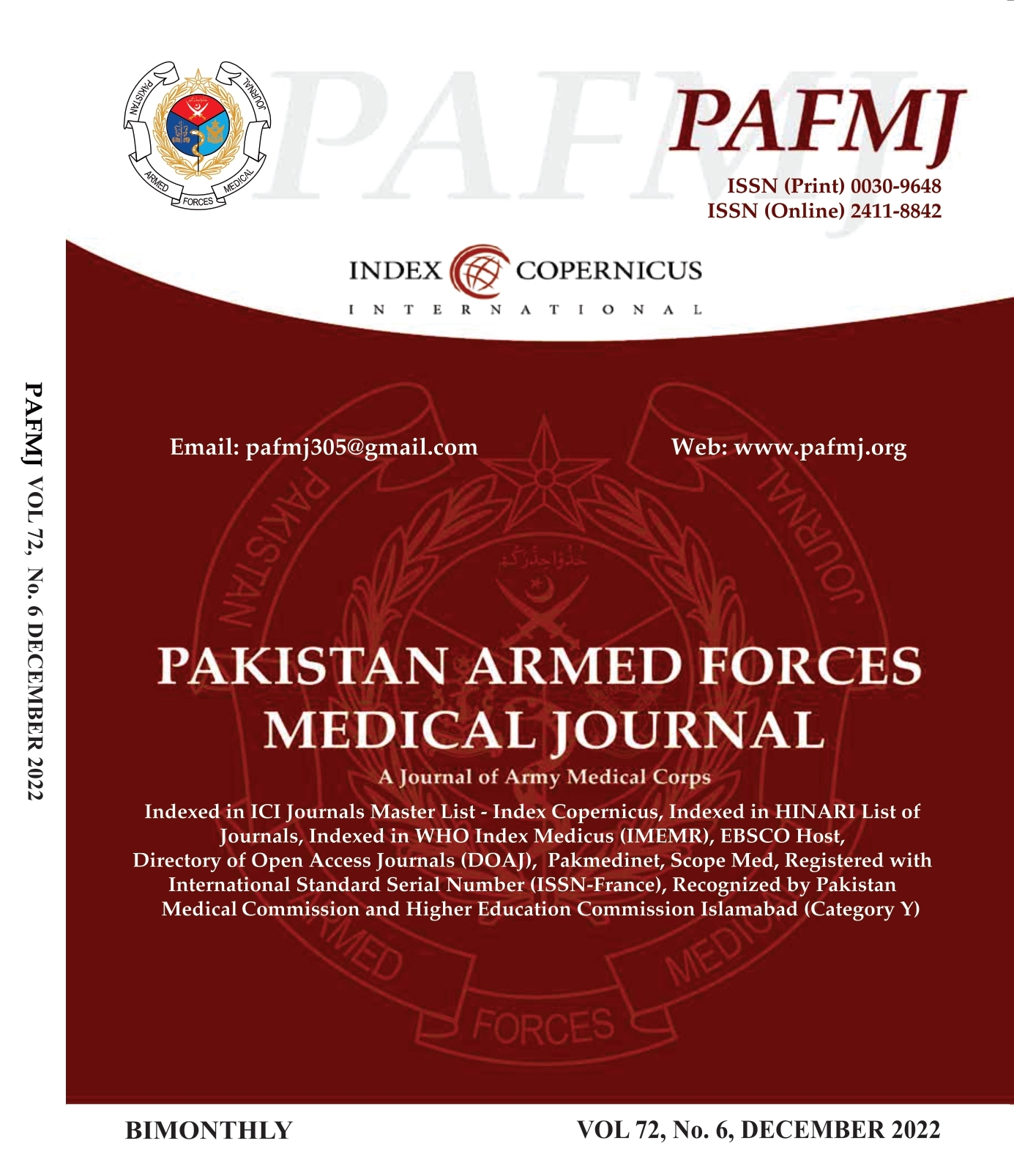 How to Cite
Rauf, A., Ahmad, F., Malik, M. B., Khan, A., Abbas, H., & Suri, A. (2022). Comparison of Surgically Induced Astigmatism between Superior and Supero-Temporal Incisions in Manual Small Incision Cataract Surgery. Pakistan Armed Forces Medical Journal, 72(6), 2002-05. https://doi.org/10.51253/pafmj.v72i6.3613
Section
Original Articles