A COMPARISON OF SUPRASCAPULAR NERVE BLOCK VS INTRAARTICULAR STEROID INJECTION IN IMPROVEMENT OF HEMIPLEGIC SHOULDER PAIN
Musab Bin Noor

Armed Forces Institute of Rehabilitation Medicine

Aamir Waheed Butt

Waseem Iqbal

Maimuna Rashid
Keywords:
hemiplegic shoulder pain, intraarticular steroid injection, suprascapular nerve block, pain management
Abstract
Objectives: To compare the mean improvement in pain on Visual Analogue Scale by Suprascapular Nerve block and Intra-articular steroid injection in patients with hemiplegic shoulder pain.
Study Design: Randomized Controlled Trial
Place and Duration of Study: Pain Clinic, Armed Forces Institute of Rehabilitation Medicine Rawalpindi from 25th October 2017 to 24th April 2018
Patients & Methods: 60 patients with CVA and shoulder pain on hemiplegic side for at least 2 weeks were included in study after non-probability consecutive sampling after meeting inclusion criteria. Subjects were randomized by lottery into two groups; Group A receiving Suprascapular Nerve block with 5ml of 1% Lignocaine with Group B receiving Intra-articular 40mg Triamcinolone Acetonide plus 1 ml of 1% Lignocaine injections. Mean change in pain scores on VAS was calculated between score at baseline and at 4 weeks post-intervention
Results: The mean age of patients in group A was 59.17 ± 9.81 years and in group B was 39.96 ± 11.11 years. Out of 60 patients, 34 (56.67%) were males and 26 (43.33%) were females with male to female ratio of 1.3:1. Mean duration of stroke was 7.50 ± 2.66 months. Mean pain change on VAS in Group A (Suprascapular Nerve block) was 3.83 ± 1.12 cm while in Group B (Intra-articular steroid injection) it was 2.17 ± 0.99 cm (p-value = 0.0001).
Conclusion: This study concluded that Suprascapular Nerve block offered better improvement in hemiplegic shoulder pain on Visual Analogue Scale at 4 weeks as compared to intraarticular steroid injection.
Downloads
Download data is not yet available.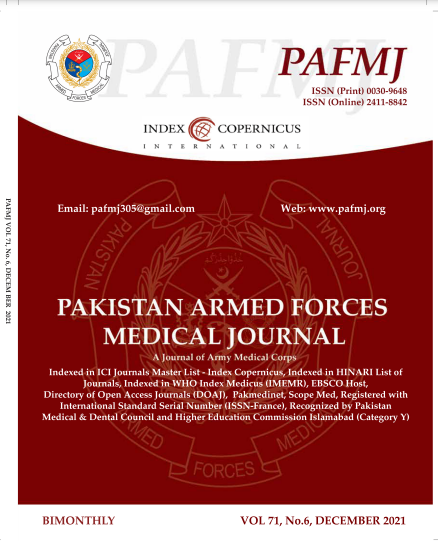 How to Cite
Bin Noor, M., Butt, A., Iqbal, W., & Rashid, M. (2021). A COMPARISON OF SUPRASCAPULAR NERVE BLOCK VS INTRAARTICULAR STEROID INJECTION IN IMPROVEMENT OF HEMIPLEGIC SHOULDER PAIN. PAFMJ, 71(6), 1971-75. https://doi.org/10.51253/pafmj.v6i6.3589
Section
Original Articles