TO DETERMINE EFFICACY OF GRANISETRON VERSUS PLACEBO FOR REDUCING SHIVERING IN PATIENTS UNDERGOING LOWER SEGMENT CAESAREAN SECTION UNDER SPINAL ANAESTHESIA
Sana Abbas

Combined Military Hospital/National University of Medical Sciences (NUMS) Rawalpindi Pakistan

Bilal Yasin

Combined Military Hospital/National University of Medical Sciences (NUMS) Rawalpindi Pakistan

Basit Mehmood Khan

Combined Military Hospital/National University of Medical Sciences (NUMS) Rawalpindi Pakistan

Umer Hayat

Combined Military Hospital/National University of Medical Sciences (NUMS) Rawalpindi Pakistan

Rashid Hanif

Combined Military Hospital/National University of Medical Sciences (NUMS) Rawalpindi Pakistan

Mohsin Fayyaz

Combined Military Hospital/National University of Medical Sciences (NUMS) Rawalpindi Pakistan
Keywords:
Caesarean section, Granisetron, Post spinalanaesthesia
Abstract
Objective: To determine the efficacy of granisetron versus placebo (saline) for reducing shivering in patients undergoing lower segment caeserian section under spinal anaesthesia.
Study Design: Comparative cross - sectional study.
Place and Duration of Study: Department of Anaesthesia, Combined Military Hospital Rawalpindi, from Apr to Sep 2019.
Methodology: Total 178 patients undergoing lower segment ceaserian section under spinal anaesthesia with age ranges from 18-40 years of American Society of Anaesthesiologists status I & II with full term pregnancy scheduled for elective caesarean section under spinal anaesthesia. Group A (n=92) received an intravenous bolus of 1 mg granisetron in a 10ml syringe and Group B (n=86) received intravenous bolus of normal saline in a 10ml syringe, drugs were administered immediately before spinal anaesthesia by anaesthetist as coded syringes. Heart rate, blood pressure, core body temperature and shivering scores were measured at 0 minutes, 30 minutes and 60 minutes, average surgery time recorded to be 60 minutes.
Results: None of the patients in group A (drug group) exhibited appreciable post spinal shivering whereas 25 (29%) in group B (placebo) had clinically significant shivering necessitated administration of other established pharmacological agents to abort shivering in order to ensure patient comfort and satisfaction with statistically significant p-value of <0.05.
Conclusion: Prophylactic injection granisetron was efficacious against post spinal shivering, moreover provides worth while relief of nausea and vomiting which is dilemma with most of the drugs employed for control of post spinal shivering.
Downloads
Download data is not yet available.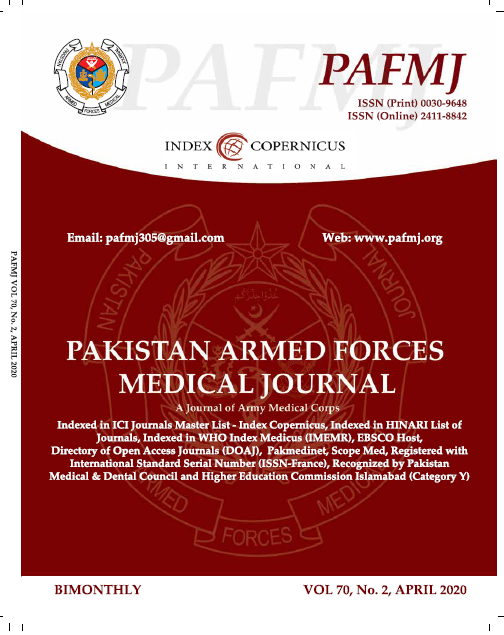 How to Cite
Abbas, S., Yasin, B., Khan, B., Hayat, U., Hanif, R., & Fayyaz, M. (2021). TO DETERMINE EFFICACY OF GRANISETRON VERSUS PLACEBO FOR REDUCING SHIVERING IN PATIENTS UNDERGOING LOWER SEGMENT CAESAREAN SECTION UNDER SPINAL ANAESTHESIA. Pakistan Armed Forces Medical Journal, 71(2), 530-34. https://doi.org/10.51253/pafmj.v71i2.3577
Section
Original Articles