FREQUENCY AND PREDICTORS OF ACCESS FAILURE IN PATIENTS UNDERGOING URETERORENOSCOPY FOR UPPER URINARY TRACT CALCULI
Ahsan Rafi

Aga Khan University, Karachi Pakistan

Wajahat Aziz

Aga Khan University, Karachi Pakistan

Hammad Ather

Aga Khan University, Karachi Pakistan
Keywords:
Access failure, Endoscopy, FURS, RIRS, Ureteroscopy, Urolithiasis
Abstract
Objective: To determine the frequency and factors responsible for access failure during primary ureteroscopy (URS).
Study Design: Cross-sectional study.
Place and Duration of Study: Aga Khan University, Karachi Pakistan, from Jan to Jul 2019.
Methodology: All patients undergoing Ureterorenoscopy for upper urinary tract urolithiasis were included. Ureterorenoscopy was performed with either semi rigid, rigid digital or fiber opticflexible ureterorenoscope as appropriate. Data was collected for demographics, history of stone passage, previous Ureterorenoscopy /double J stenting and history of stent placement. Preoperative imaging reviewed for stone location, size and number. Level of access failure (proximal/mid/distal ureter) was noted. Post-operative complications and need of ancillary procedure was noted.
Results: We included 250 participants undergoing ureteroscopy for the upper urinary tract calculi. Mean age of the patients was 44.15 ± 13.76 years. Mean stone size was 9.12 ± 4.23mm. Overall access failure rate was found to be 8% (20/250), all required an ancillary procedure. None of the patients with previous history of endoscopic intervention or stone passage had access failure. On univariate and multivariate analysis only stone location was found to be significant factor predicting access failure.
Conclusion: Failure to access is not uncommon during primary ureteroscopy. Access failure is more common in proximal ureteral stone and in patients with no previous episode of ureteral stones and procedure. Information from this study will help in counseling patients' pre-operatively and may be a guide to urologists on pre stenting of selected patients at high risk of access failure.
Downloads
Download data is not yet available.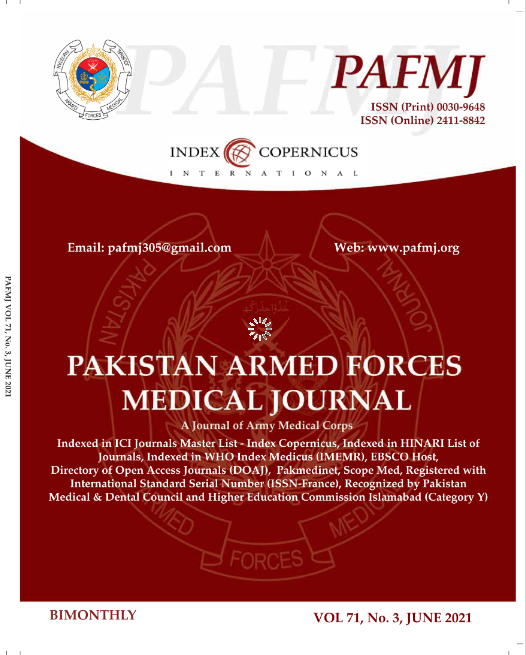 How to Cite
Rafi, A., Aziz, W., & Ather, H. (2021). FREQUENCY AND PREDICTORS OF ACCESS FAILURE IN PATIENTS UNDERGOING URETERORENOSCOPY FOR UPPER URINARY TRACT CALCULI. Pakistan Armed Forces Medical Journal (PAFMJ), 71(3), 823-26. https://doi.org/10.51253/pafmj.v71i3.3511
Section
Original Articles