OUTCOME OF PATIENTS DIAGNOSED WITH END-STAGE RENAL DISEASE REQUIRING INTENSIVE CARE UNIT ADMISSION AT A SINGLE CENTER IN PAKISTAN
Mehr Afroz

Sindh Institute of Urology and Transplantation, Karachi Pakistan

Syed Furqan Zafar

Sindh Institute of Urology and Transplantation, Karachi Pakistan

Ejaz Ahmad

Sindh Institute of Urology and Transplantation, Karachi Pakistan

Syed Fazal Akhter

Sindh Institute of Urology and Transplantation, Karachi Pakistan
Keywords:
End-stage renal disease, Intensive care unit, Mortality, Sofa score
Abstract
Objective: To determine the outcome of patients with end-stage renal disease requiring intensive care unit admission at a single center in Pakistan.
Study Design: Prospective observational study.
Place and Duration of Study: Nephrology Intensive Care Unit of Sindh Institute of Urology and Transplantation, Karachi, Pakistan, from Sep 2018 to Jan 2019.
Methodology: After approval from the research advisory board of Sindh Institute of Urology and Transplantation, all consecutive adult patients (≥18 years) of either gender with end-stage renal disease with glomerular filtration rate (GFR) <15 ml/min/1.73 m2 and bilateral irreversible structural abnormalities of kidneys on ultrasound who required intensive care unit admission were included in the study.
Results: Among 205 patients, 117 (57.1%) were males. The mean age was 44.16 ± 14.18 years. Hypertension, 125 (61%), was most common co-morbidity, followed by diabetes in 73 (35.6%) cases and other rare conditions. Regarding indications for intensive care unit admission, severe metabolic acidosis 68 (33.25%) was the most common indication, followed by altered sensorium in 43 (21%), sepsis in 36 (17.6%) and others. Overall intensive care unitmortality rate was 31.7% (63/205). The total Sequential Organ Failure Assessment score of alive patients, on 1st and last day was 88.29 and 71.58, respectively, while of expired patients was 134.68 and 170.68, respectively. Significant association of mortality with diabetes and hypertension was observed.
Conclusion: Higher mortality rates were observed for end-stage renal disease patients requiring intensive care unit admission in our set-up. Higher Sequential Organ Failure Assessment scores were observed both on admission and.........
Downloads
Download data is not yet available.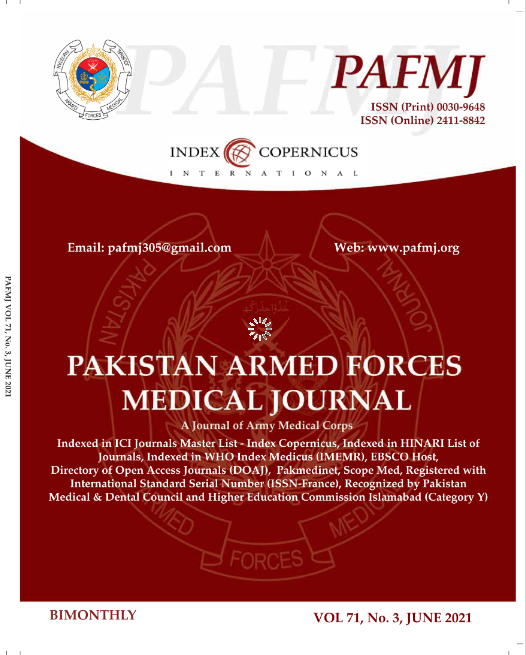 How to Cite
Afroz, M., Zafar, S., Ahmad, E., & Akhter, S. (2021). OUTCOME OF PATIENTS DIAGNOSED WITH END-STAGE RENAL DISEASE REQUIRING INTENSIVE CARE UNIT ADMISSION AT A SINGLE CENTER IN PAKISTAN. PAFMJ, 71(3), 899-903. https://doi.org/10.51253/pafmj.v71i3.3509
Section
Original Articles