COMPARISON OF DELAYED CORD CLAMPING AND CORD MILKING EFFECTS ON NEONATAL APGAR SCORE AND HAEMATOCRIT
Neonatal Apgar Score And Haematocrit
Ghulam Sabir

Combined Military Hospital Hyderabad/National University of Medical Sciences (NUMS) Pakistan

Ayesha Raja

Combined Military Hospital Malir/National University of Medical Sciences (NUMS) Pakistan

Saira Mahboob

Pakistan Naval Ship Shifa Hospital, Karachi Pakistan

Saima Shoukat

Combined Military Hospital Malir/National University of Medical Sciences (NUMS) Pakistan

Ali Kashif

Pakistan Naval Ship Shifa Hospital, Karachi Pakistan

Shazia Iffat

Combined Military Hospital Attock/National University of Medical Sciences (NUMS) Pakistan
Keywords:
APGAR score, Caesarean section, Delayed cord clamping, Umbilical cord milking, Neonatal Haematocrit
Abstract
Objective: To assess the feasibility of umbilical cord milking as an alternative to delayed cord clamping during caserean section by comparing neonatal outcomes.
Study Design: Quasi experimental study.
Place and Duration of Study: Department of Anesthesiology, Combined Military Hospital, Okara, from Mar to Oct 2018.
Methodology: A total of 384 cases (n=192 in each group) were included in our study. In group A, the half-length of umbilical cord was milked thrice by the operating surgeon before clamping and cutting it. In group B the umbilical cord was cut 90 second after delivery of the baby. The outcomes were: APGAR score at one and five minutes after delivery, haemglobin and haematocrit 4 hours after delivery of baby. Requirement of oxygen and ventilatory support during the 24 hours after birth were also noted.
Results: Our two study groups didn't vary in their demographic profile. The difference between the APGAR score at one and five minutes was not statistically significant, (p>0.05). The diffrence in haemoglobin and haematocrit levels of the neonates 4 hours after delivery were insignificant (p-value 0.27 and 0.14 respectively).
Conclusion: Milking of the umbilical cord can be used as an alternative to the recommended technique of delayed umbilical cord clamping, especially when immediate resuscitation of the newborn is needed.
Downloads
Download data is not yet available.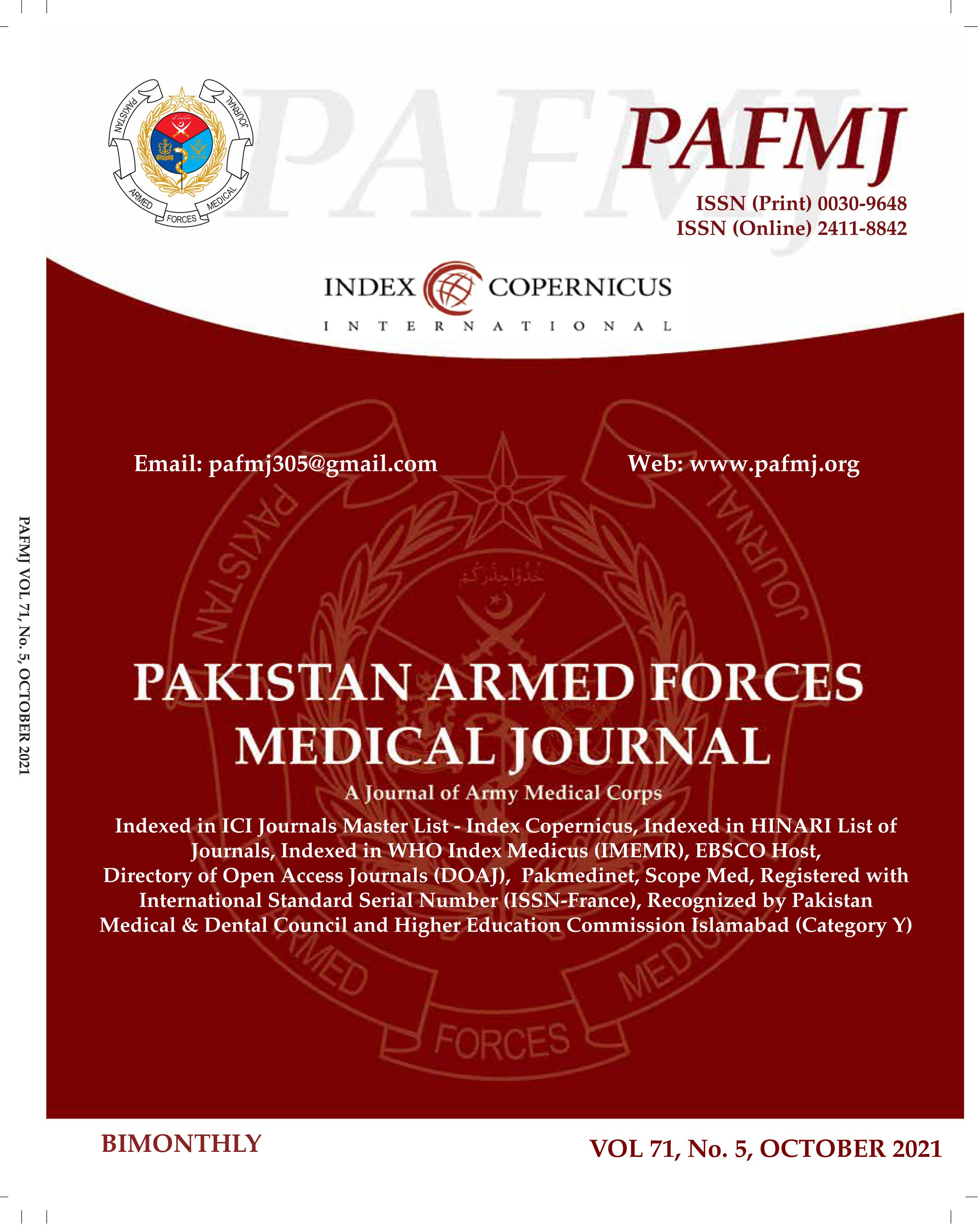 How to Cite
Sabir, G., Raja, A., Mahboob, S., Shoukat, S., Kashif, A., & Iffat, S. (2021). COMPARISON OF DELAYED CORD CLAMPING AND CORD MILKING EFFECTS ON NEONATAL APGAR SCORE AND HAEMATOCRIT. PAFMJ, 71(5), 1811-15. https://doi.org/10.51253/pafmj.v71i5.3508
Section
Original Articles