EARLY VERSUS DELAYED ORAL INTAKE IN PATIENTS AFTER CESAREAN SECTION UNDER REGIONAL ANESTHESIA
Early Versus Delayed Oral Intake
Laiqa Hassan

Combined Military Hospital Lahore Medical College, Lahore/National University of Medical Sciences (NUMS) Pakistan

Shazia Tufail

Combined Military Hospital Lahore Medical College, Lahore/National University of Medical Sciences (NUMS) Pakistan

Farheen Aslam

District Head Quarter Hospital, Vehari Pakistan

Nilofar Mustafa

Combined Military Hospital Lahore Medical College, Lahore/National University of Medical Sciences (NUMS) Pakistan

Arub Ahmed

Combined Military Hospital Lahore Medical College, Lahore/National University of Medical Sciences (NUMS) Pakistan

Saima Qamar

Combined Military Hospital Lahore Medical College, Lahore/National University of Medical Sciences (NUMS) Pakistan
Keywords:
Cesarean section, Early oral intake, Gastrointestinal motility, Postoperative complications
Abstract
Objective: To compare the outcome in early versus delayed oral intake in patients after cesarean section under regional anesthesia.
Study Design: Quasi-experimental study.
Place and Duration of Study: Department of Obstetrics and Gynecology, Combined Military Hospital Lahore, from Dec 2017 to May 2018.
Methodology: A total of 352 women undergoing elective cesarean section under regional anesthesia, nil by mouth for at least 8 hours before surgery were divided in 2 groups. In group 1, patients were given sips of clear oral fluid (water) <5 hours after cesarean section and in group 2, patients received sips of water 8 hours following surgery. Bowel motility was assessed after surgery on hourly basis. Data about time interval to first bowel movement and ileus were noted.
Results: Mean age of patients was 32.329 ± 3.44 years and 33.051 ± 3.64 years in group 1 and 2 respectively. Mean gestational age and body mass index was 38.50 ± 0.93 weeks and 29.824 ± 4.97 kg/m2 in group-1 versus 37.937 ± 0.98 weeks and 27.779 ± 2.81 kg/m2 in group 2. Mean duration of surgery was 47.096 ± 6.65 minutes in group-1 and 47.647 ± 8.76 minutes in group 2. Ileus was seen in 17% patients in group-1 and 34.1% in group-2 (p<0.001). Mean time interval for first bowel movement was 8.323 ± 1.20 hours in group-1 and 13.034 ± 2.54 hours in group 2 (p<0.001).
Conclusion: Early feeding after an uncomplicated cesarean section has reduced rate of ileus symptoms and mean time interval for bowel......
Downloads
Download data is not yet available.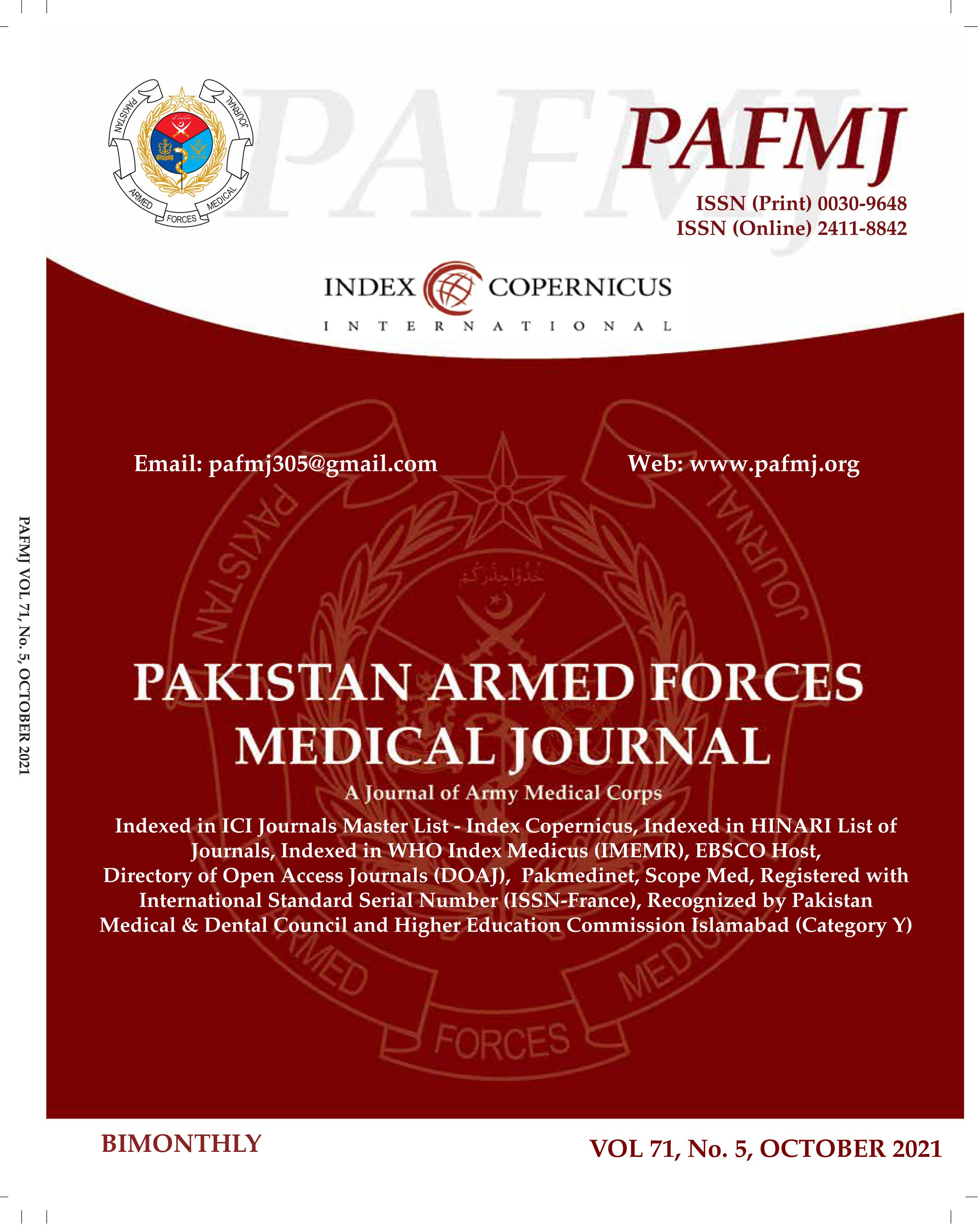 How to Cite
Hassan, L., Tufail, S., Aslam, F., Mustafa, N., Ahmed, A., & Qamar, S. (2021). EARLY VERSUS DELAYED ORAL INTAKE IN PATIENTS AFTER CESAREAN SECTION UNDER REGIONAL ANESTHESIA. PAFMJ, 71(5), 1559-62. https://doi.org/10.51253/pafmj.v71i5.3499
Section
Original Articles