HISTOPATHOLOGICAL PATTERN OF GLOMERULAR LESIONS ON PERCUTANEOUS RENAL BIOPSY IN PROTEINURIC PATIENTS
Glomerular Lesions in Proteinuric Patients
Keywords:
Glomerulonephritis, Kidney disease, Proteinuria, Renal biopsy, Renal pathology, Urinalysis
Abstract
Objective: To determine the histopathological pattern of glomerular lesions on per-cutaneous renal biopsy in patients presenting with proteinuria.
Study Design: Cross-sectional descriptive study.
Place and Duration of Study: Department of Medicine, Combined Military Hospital Peshawar, from Aug 2012 to May 2015.
Material and Methods: From the adult patients undergoing renal biopsy for various indications in our department, we selected a cohort of 200 patients who had proteinuria of ≥1 gram/24 hours on presentation. A percutaneous renal biopsy was performed in these patients and the specimens were subjected to histopathology and immunofluorescence studies. The results of biopsy findings were considered along with other clinical and laboratory data to reach conclusive clinico-histopathological diagnoses of various glomerular diseases.
Results: Most patients with proteinuria (91%, n=182) have glomerular disease. Among glomerular diseases, primary ones are more common (69.8%) than secondary disorders (26.9%). In our study cohort, focal segmental glomerulosclerosis is the most common diagnosis (23%), while lupus nephritisis the most common secondary glomerular disorder (7%). Other common glomerular disorders are membranous nephropathy (12%), IgA nephropathy (9%), and post-infectious glomerulonephritis (6%).
Conclusion: Glomerular disease is common in patients presenting with proteinuria. Its histopathological pattern appears similar to that mentioned in many other studies of the region.
Downloads
Download data is not yet available.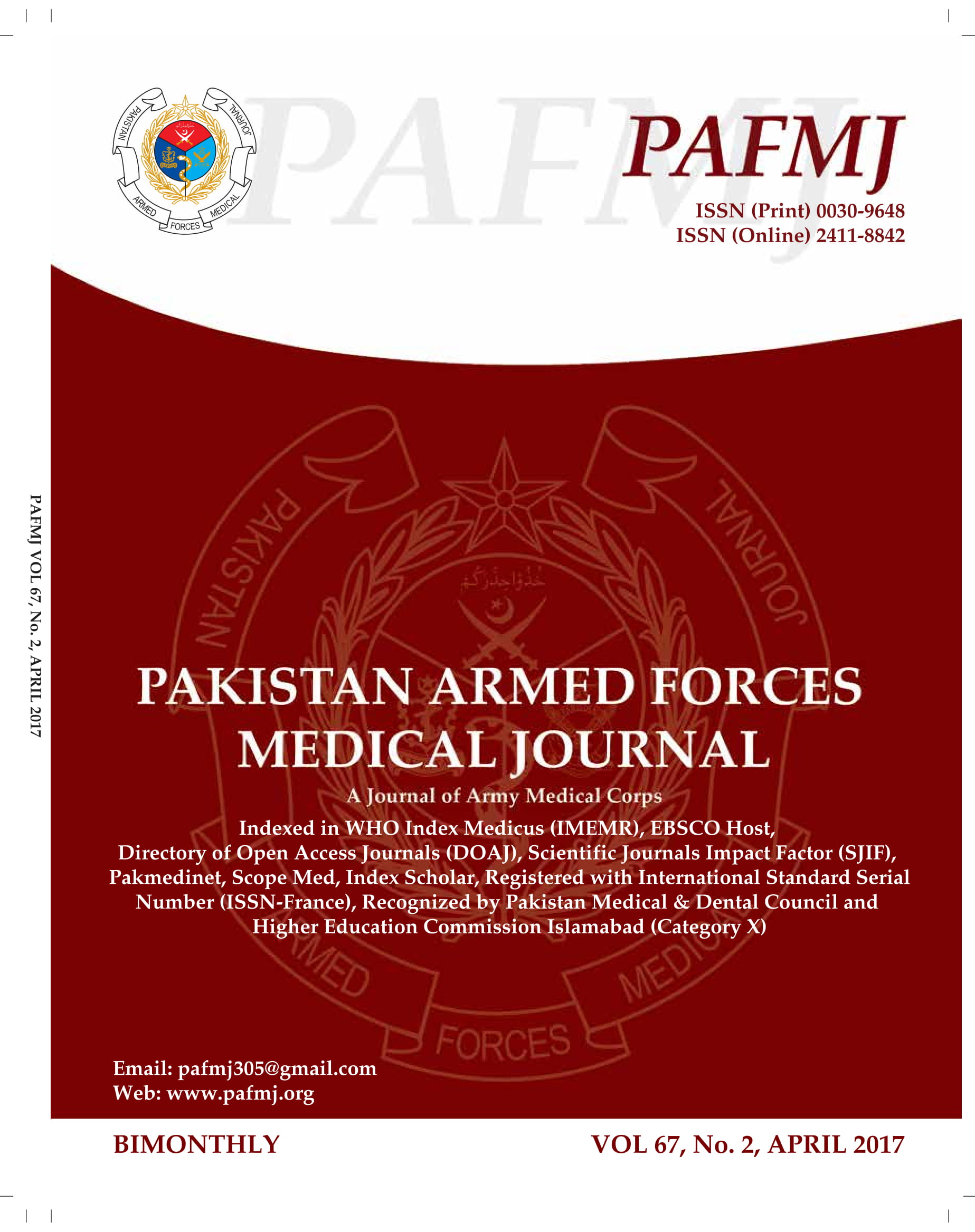 Downloads
How to Cite
Khalid, M., Ahmad, J., & Azmat Khan, M. (2017). HISTOPATHOLOGICAL PATTERN OF GLOMERULAR LESIONS ON PERCUTANEOUS RENAL BIOPSY IN PROTEINURIC PATIENTS: Glomerular Lesions in Proteinuric Patients. Pakistan Armed Forces Medical Journal, 67(2), 211–15. Retrieved from https://pafmj.org/index.php/PAFMJ/article/view/346
Section
Original Articles