Quality of Life in Patients of Type 2 Diabetes Mellitus
Keywords:
Complications of diabetes mellitus, Health related quality of life, Sickness impact profile
Abstract
Objective: To document quality of life in type 2 diabetics and identify factors predictive of better quality of life.
Study Design: Cross- sectional analytical study.
Place and Duration of Study: Combined Military Hospital (CMH), Peshawar Pakistan, from Jul to Aug 2019.
Methodology: Adult patients of either gender being treated in outdoor department for type 2 diabetes mellitus were enrolled using non- probability convenience sampling technique. We excluded unwilling patients, those with diabetes for less than 3 months and those unable to comprehend the data collection instrument. Quality of life was assessed using Urdu version of WHOQOL-BREF questionnaire. This was self-administered. Variables potentially affecting quality of life were also recorded: age, gender, duration of diabetes, presence of co-existent hypertension, type of treatment and body mass index.
Results: There were 99 patients, including 44 males, having mean age of 55.01 ± 12.68 years. Median duration of diabetes was 9 years (range: 0.5 to 35 years). Co-existent hypertension was present in 63 patients. Mean BMI was 24.92 ± 5.79 kg/m2. Most (60; 59.60%) of them were on insulin. Total score on WHOQOL-BREF questionnaire was 87.19 ± 12.38, whereas the scores for physical, psychological, social and environmental quality of life were 12.06 ± 2.32, 12.90 ± 2.88, 15.82 ± 3.91 and 14.47 ± 1.84 respectively. Male patients were more likely to have better quality of life (Odds Ratio 3.638, 95% CI 1.508, 8.775; p=0.004). Other factors did not influence quality of life.
Conclusion: Patients with type 2 diabetes have a poor quality of..........
Downloads
Download data is not yet available.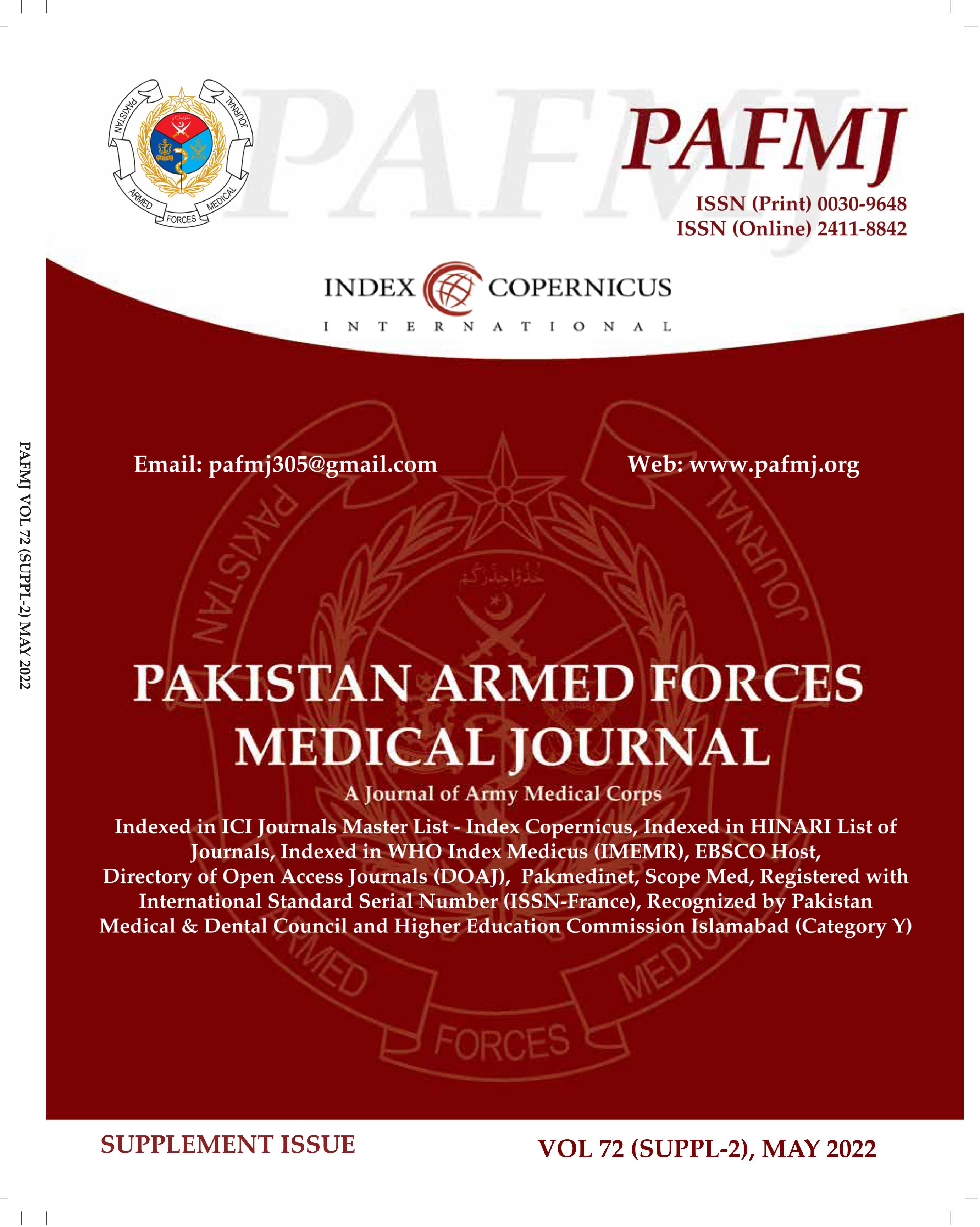 Downloads
How to Cite
Sarir, N., Kohistani, T. A., Arshad, A. R., Ali, G., & Khitab, S. (2022). Quality of Life in Patients of Type 2 Diabetes Mellitus. Pakistan Armed Forces Medical Journal, 72(SUPPL-2), S255–58. https://doi.org/10.51253/pafmj.v72iSUPPL-2.3456
Section
Original Articles