GENITOURINARY INJURIES DURING WAR AGAINST TERROR: A SINGLE-CENTER EXPERIENCE
Haroon Sabir Khan

Pakistan Naval Ship Shifa Hospital, Karachi Pakistan

Faaran Kiani

Armed Forces Institute of Urology/National University of Medical Sciences (NUMS) Rawalpindi Pakistan

Muhammad Nawaz

Armed Forces Institute of Urology/National University of Medical Sciences (NUMS) Rawalpindi Pakistan

Muhammad Sarwar Alvi

Combined Military Hospital Peshawar/National University of Medical Sciences (NUMS) Pakistan

Muhammad Rafiq Zafar

Armed Forces Institute of Urology/National University of Medical Sciences (NUMS) Rawalpindi Pakistan

Arshad Mahmood

Armed Forces Institute of Urology/National University of Medical Sciences (NUMS) Rawalpindi Pakistan
Keywords:
genitourinary injuries, Management, War, Injuries
Abstract
Objective: To compare our experience of genitourinary injuries during the war against terrorism with the record of those in previous wars of the World.
Study Design: Cross sectional study.
Place and Duration of Study: Urology department, Combined Military Hospital Peshawar, from Jun 2011 to Aug 2014.
Methodology: We treated 89 (5.6%) cases of genitourinary injuries received in our tertiary care hospital in Khyber Pakhtunkhwa. The hospital was located at a distance of 2-3 hours of evacuation time by helicopter from the forward operational area.
Results: The frequency of genitourinary injuries among 1589 war casualties was (5.6%). Out of these 49 (55%) were due to sniper shots and 40 (45%) due to improvised explosive device. Kidney was the most common organ injured 30 (33.7%), followed by bladder 20 (22.5%) and urethra 14 (15.7%). Majority of renal and bladder injuries were afflicted in those soldiers who were not wearing the protective jackets. Associated injuries to other organs were identified in 81% cases. Salvage of all genitourinary organs was the aim; however, nephrectomy and orchiectomy had to be performed in 30% and 50% respectively.
Conclusion: Salvage of genitourinary war injuries poses a challenge to the trauma surgeon as lifesaving measures take precedence over organ preservation. Renal trauma in war was found to be the leading critical genitourinary injury.
Downloads
Download data is not yet available.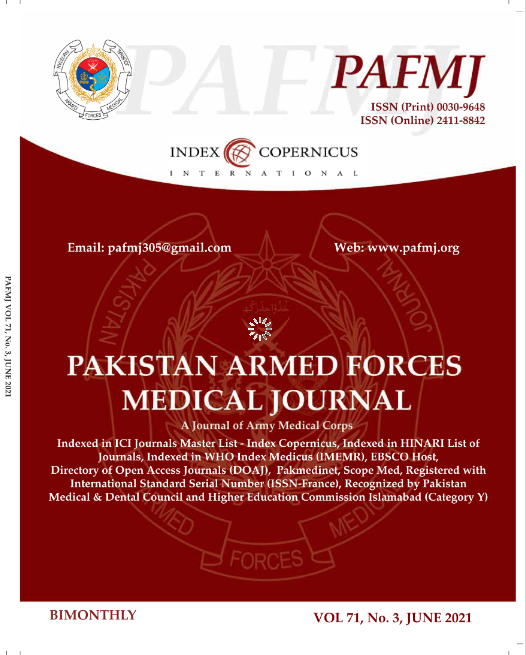 How to Cite
Khan, H., Kiani, F., Nawaz, M., Alvi, M., Zafar, M., & Mahmood, A. (2021). GENITOURINARY INJURIES DURING WAR AGAINST TERROR: A SINGLE-CENTER EXPERIENCE. Pakistan Armed Forces Medical Journal, 71(3), 724-28. https://doi.org/10.51253/pafmj.v71i3.3443
Section
Original Articles