EFFICACY OF OLANZAPINE CONTAINING REGIMEN IN PREVENTION OF CHEMOTHERAPY INDUCED NAUSEA AND VOMITING IN PATIENTS OF BREAST CANCER RECEIVING HIGHLY EMETOGENIC CHEMOTHERAPY
Keywords:
Chemotherapy Induced Nausea/Vomiting, Highly Ematogenic Chemotherapy, Olanzapine
Abstract
Objective: To investigate the efficacy of Olanzapine containing regimen as prophylaxis of Chemotherapy Induced Nausea/Vomiting (CINV) in patients with breast cancer, receiving Highly Ematogenic Chemotherapy (HEC).
Study Design: Quasi experimental study.
Place and Duration of Study: This study was carried out at department of Medical Oncology, CMH Rawalpindi, from Aug 2015 till Feb 2017.
Methodology: After meeting the inclusion/exclusion criteria, 44 patient of breast cancer receiving Doxorubicin and Cyclophosphamide chemotherapy, were equally divided in group A and B. Group A received conventional ondansetron IV (8mg), dexamethasone IV (8mg) and Zantac IV (50mg) on day 0 (30 min before chemotherapy) with ondansetron PO (8mg) BD on day 1 and 2, while group B received olanzapine PO (10mg), dexamethasone IV (8mg) and ondansetron IV (8mg) on day 0 with olanzapine PO (10mg) OD on day 1 and 2. Nausea / vomiting scores were calculated in each patient from Day 0 till Day 6. Any episode of rescue medication was also recorded for control of breakthrough nausea/vomiting. The primary efficacy point was to compare complete response between 2 groups, where complete response was defined as Nausea score <2, Vomiting score 0 and no use of rescue medications.
Results: Twenty out of 22 patients (90.9%) showed a complete response in group B, whereas only 8 (36.4%) out of 22 (36.4%) patients showed complete response in group A.
Conclusion: Olanzapine containing regimen has shown better efficacy than conventional CINV prophylaxis regimen for patients receiving HEC in breast cancer.
Downloads
Download data is not yet available.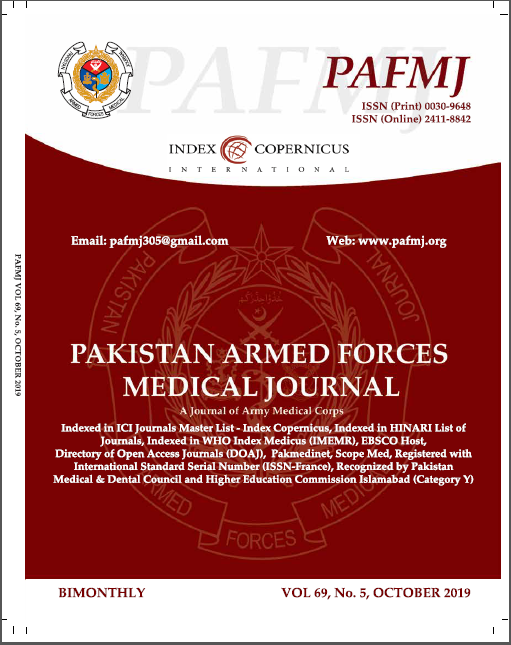 Downloads
How to Cite
Umair, M., Hussain, I., Piracha, N., & Zeeshan, M. (2019). EFFICACY OF OLANZAPINE CONTAINING REGIMEN IN PREVENTION OF CHEMOTHERAPY INDUCED NAUSEA AND VOMITING IN PATIENTS OF BREAST CANCER RECEIVING HIGHLY EMETOGENIC CHEMOTHERAPY. Pakistan Armed Forces Medical Journal, 69(5), 1139–43. Retrieved from https://pafmj.org/index.php/PAFMJ/article/view/3437
Section
Original Articles