A YOUNG MAN WITH GENERALIZED TONIC-CLONIC SEIZURES AND HYPOCALCAEMIA
Keywords:
Hypocalcaemia, Hypoparathyroidism, Seizures
Abstract
A young man presented with history of generalized tonic clonic seizures, second episode in one year. Previous clinical history was significant for episodic carpopedal spasms. Clinical examination was significant for the presence of Trousseau sign. ECG was evident of prolonged QT interval and Corrected QT interval. Laboratory investigations revealed low serum calcium (corrected serum calcium was also low). Neuroimaging showed
multiple bilateral hyper dense foci of calcification in cerebral hemispheres, thalami, caudate nucleus and cerebellar lobes. Serum intact parathyroid hormone level was found to be low. Investigations for other endocrine pathologies did not reveal any abnormality. EEG was normal. Crossectional imaging of chest, abdomen and pelvis was also done to rule out other polyendocrine deficiency syndromes and was normal. Thus diagnosis of
primary hypo-parathyroidism was established and patient started on life time calcium plus vitamin D supplements.
Downloads
Download data is not yet available.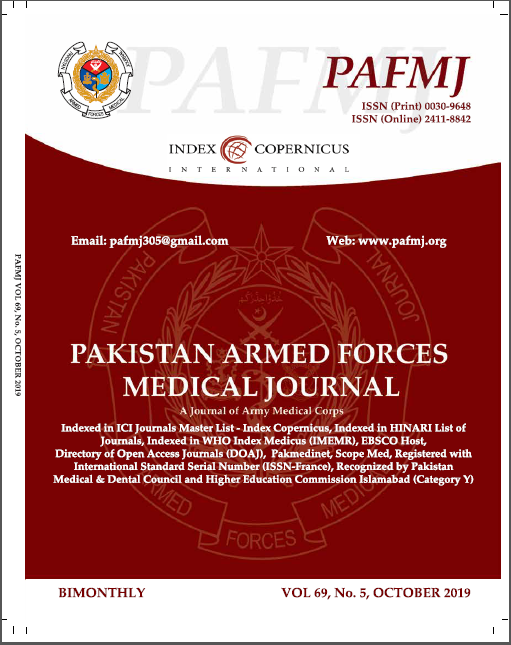 Downloads
How to Cite
Ali, G., Ahmed, A., & Ahmed, B. (2019). A YOUNG MAN WITH GENERALIZED TONIC-CLONIC SEIZURES AND HYPOCALCAEMIA. Pakistan Armed Forces Medical Journal, 69(5), 1154–57. Retrieved from https://pafmj.org/index.php/PAFMJ/article/view/3433