POST PLACENTAL INTRAUTERINE CONTRACEPTIVE DEVICE INSERTION: A PROMISING CONTRACEPTIVE APPROACH
Tahira Khalid

Federal Government Hospital (FGH) Islamabad Pakistan

Tehmina Yousaf

Federal Government Hospital (FGH) Islamabad Pakistan

Sadia Irum

Federal Government Hospital (FGH) Islamabad Pakistan

Uzma Javed

Federal Government Hospital (FGH) Islamabad Pakistan
Keywords:
Contraception, Efficacy, Intracaesarian, Post placental intrauterine contraceptive device (PPIUCD)
Abstract
Objective: To evaluate efficacy and safety of post placental intrauterine contraceptive device (PPIUCD) insertion during cesarean section.
Study Design: Case series.
Place and Duration of Study: Study was conducted at Federal General Hospital PMNHC Chak Shahzad for a period of 1 year, from May 2015 to May 2016.
Methodology: Seventy five pregnant women were recruited in antenatal period after counseling and convincing of patients and their husbands. CuT-380A was inserted manually after delivery of placenta during caesarian section. Women having premature rupture of membranes (PROM) more than 18 hours, postpartum hemorrhage (PPH), fever, structural malformed uterus, fibroid uterus were excluded from study. The women were followed at 6 weeks and 3 months to measure safety and efficacy of PPIUCD insertion.
Results: Among 75 patients included in this study, majority (44%) belonged to 25-30 years' age group. 89% were literate. 46% were para-3 and were going under 2nd or 3rd caesarian section. 85% had no knowledge of intra caesarian PPIUCD. 7% had bleeding problems, while 13% complained of vaginal discharge. PPUICD was expelled in 2 cases and 1 case got infected.
Conclusion: Intracaesarian PPIUCD was found to be highly effective, safe, long acting, cost effective and reversible method of contraception. Awareness of intracaesarian PPIUCD was low but counseling of patients and family members was highly effective to increase acceptance. Strategies have to be developed to increase public awareness of PPIUCD through media and ground level workers.
Downloads
Download data is not yet available.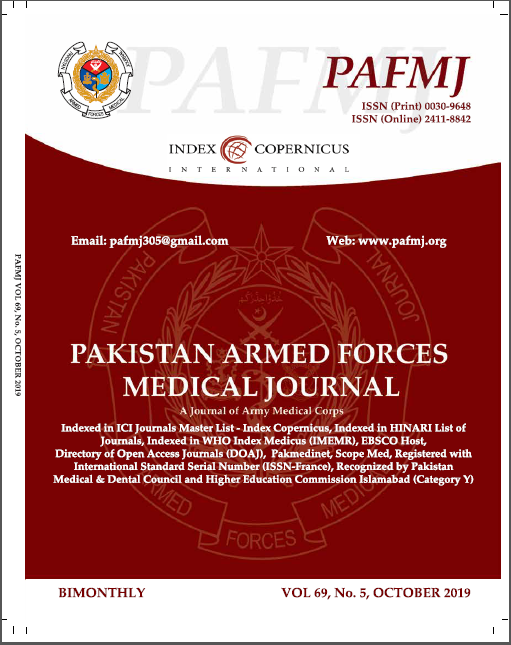 How to Cite
Khalid, T., Yousaf, T., Irum, S., & Javed, U. (2019). POST PLACENTAL INTRAUTERINE CONTRACEPTIVE DEVICE INSERTION: A PROMISING CONTRACEPTIVE APPROACH. Pakistan Armed Forces Medical Journal, 69(5), 1115-19. Retrieved from https://pafmj.org/index.php/PAFMJ/article/view/3424
Section
Original Articles