FREQUENCY OF CEREBRAL VENOUS SINUS THROMBOSIS IN PATIENTS PRESENTED WITH HEADACHE AT HIGH ALTITUDE
Keywords:
Cerebral venous sinus thrombosis, High altitude, Headache, Risk factors
Abstract
Objective: To determine the frequency of cerebral venous sinus thrombosis (CVST) among the patient with headache presenting from high altitude (HA).
Study Design: Cross-sectional study.
Place and Duration of Study: Pak Emirates Military Hospital, Rawalpindi, from 24th Apr 2018 to 24th Jan 2019.
Methodology: The sample population comprised of patients presenting with the headache, living at a height of 3000-8200 meter above sea level. CT-scan brain, MRI brain and MRV brain was performed on all the cases. Carotid Doppler, d-dimers, thrombophillic screen, autoimmune profile, EEG and other relevant investigations were performed of all the cases diagnosed with CVST. Age, altitude, total time spent at HA and acclimatization
were correlated with the presence of CVST among the patients of headache at HA.
Results: Out of 60 patients reporting with headache from HA, 9 had presence of CVST on the relevant neuroimaging. Among these cases of CVST 2 had secondary polycythemia, 1 had protein C deficiency and 1 had protein S deficiency. Poor acclimatization had a significant relationship with the presence of CVST when logistic regression was applied.
Conclusion: Cerebral venous sinus thrombosis should be considered a possibility while evaluating the causes of headache among the patients reporting from high altitude. Special attention should be given on acclimatization process for the people who are ascending to high altitude.
Downloads
Download data is not yet available.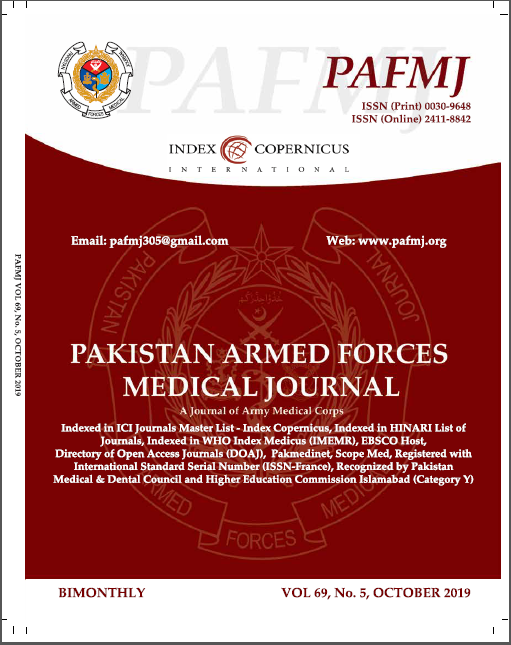 Downloads
How to Cite
Khan, A., Nawaz, K. H., Alamgir, W., Arif, S., Athar, M. H., Fakhr, A., & Butt, K. R. (2019). FREQUENCY OF CEREBRAL VENOUS SINUS THROMBOSIS IN PATIENTS PRESENTED WITH HEADACHE AT HIGH ALTITUDE. Pakistan Armed Forces Medical Journal, 69(5), 1111–14. Retrieved from https://pafmj.org/index.php/PAFMJ/article/view/3423
Section
Original Articles