NOVEL PROTECTIVE ROLE OF MONTELUKAST AGAINST ASPIRIN INDUCED GASTRIC ULCERATION IN RABBITS - MONTELUKAST; A REVOLUTIONARY ASPECT
Syeda Urooj Zaidi

Army Medical College/National University of Medical Sciences (NUMS) Rawalpindi Pakistan

Muhammad Waqar Aslam Khan

Army Medical College/National University of Medical Sciences (NUMS) Rawalpindi Pakistan

Sumetha Yaseen

Army Medical College/National University of Medical Sciences (NUMS) Rawalpindi Pakistan

Mahwish Gul

Army Medical College/National University of Medical Sciences (NUMS) Rawalpindi Pakistan

Zubaida Rashid

Army Medical College/National University of Medical Sciences (NUMS) Rawalpindi Pakistan

Maryam Saqib

Army Medical College/National University of Medical Sciences (NUMS) Rawalpindi Pakistan
Keywords:
Aspirin, Gastroprotection, Montelukast, Omeprazole, Peptic ulcer disease
Abstract
Objective: To assess the gastroprotective effect of montelukast on aspirin induced gastric mucosal ulceration in rabbits.
Study Design: Laboratory based quasi experimental study.
Place and Duration of Study: National Institute of Health Islamabad and department of Pharmacology and Therapeutics in collaboration with Histopathology department at Army Medical College Rawalpindi from March to May 2018.
Methodology: Twenty eight New Zealand white rabbits were randomly divided into four groups as follows: Group 1 was normal control group, group 2 received aspirin as a single dose of 300mg/kg orally on day 6 of the study, group 3 and 4 received omeprazole and montelukast respectively on a similar dosing schedule: where a total of 10mg/kg/day of each respective drug was administered orally for 6 consecutive days followed by a
single oral dose of 300 mg/kg of aspirin after 1 hour of the last dose. All animals were sacrificed 5 hours after aspirin administration. The abdomens were dissected and the gastric tissues were excised for macroscopic, ulcer index and pH evaluation and were sent for histopathology for microscopic assessment.
Results: Moderate to severe gastric mucosal damage (grade II-III) was seen in the aspirin treated toxic group, with considerable increase in ulcer index and decrease in pH (p<0.001). Montelukast significantly ameliorated the gastric mucosal ulceration as evident by substantial decrease in ulcer index (UI), increase in pH, gross and histoarchitecture findings with preventive index of 51.36% closed to the percentage protection of standard antiulcer drug omeprazole.
Conclusions: Montelukast has anti-ulcerogenic gastroprotective effect on microscopic, macroscopic and biochemical level.
Downloads
Download data is not yet available.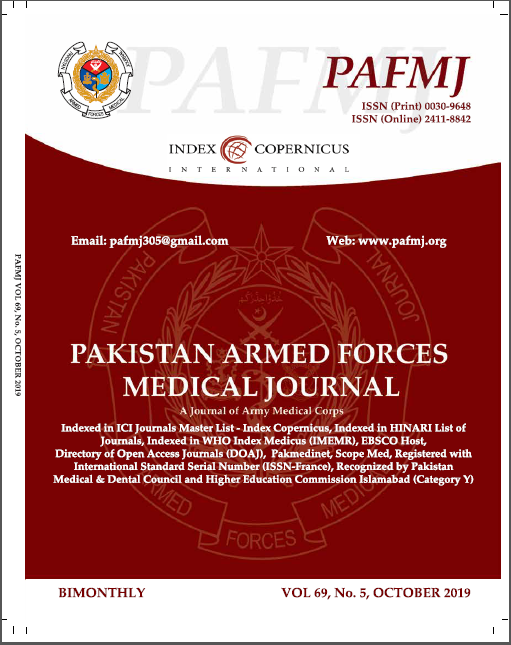 How to Cite
Zaidi, S., Khan, M. W., Yaseen, S., Gul, M., Rashid, Z., & Saqib, M. (2019). NOVEL PROTECTIVE ROLE OF MONTELUKAST AGAINST ASPIRIN INDUCED GASTRIC ULCERATION IN RABBITS - MONTELUKAST; A REVOLUTIONARY ASPECT. Pakistan Armed Forces Medical Journal, 69(5), 1088-93. Retrieved from https://pafmj.org/index.php/PAFMJ/article/view/3419
Section
Original Articles