HEPATOCELLULAR CARCINOMA AT INITIAL PRESENTATION AND ITS SUBSEQUENT THERAPEUTIC OPTIONS OFFERED: A TERTIARY CARE HOSPITAL EXPERIENCE
Asim Shehzad

Pak Emirates Military Hospital/National University of Medical Sciences (NUMS) Rawalpindi Pakistan

Rabia Sajjad

Armed Forces Institute of Pathology/National University of Medical Sciences (NUMS) Rawalpindi Pakistan

Khawar Shabbir

Pak Emirates Military Hospital/National University of Medical Sciences (NUMS) Rawalpindi Pakistan

Zafar Ali Qureshi

Pak Emirates Military Hospital/National University of Medical Sciences (NUMS) Rawalpindi Pakistan

Farrukh Saeed

Pak Emirates Military Hospital/National University of Medical Sciences (NUMS) Rawalpindi Pakistan

Abdullah Qamar

Army Medical College/National University of Medical Sciences (NUMS) Rawalpindi Pakistan
Keywords:
Hepatocellular carcinoma, Hepatitis C, Sorafenib, Transarterial chemo-embolization (TACE)
Abstract
Objective: To determine the important clinical features at the initial presentation of Hepatocellular carcinoma and the treatments offered thereby.
Study Design: Cross-sectional study.
Place and Duration of Study: Department of Gastroenterology, Pak Emirates Military Hospital, Rawalpindi, from Jan 2017 to Dec 2017.
Methodology: A total of 157 patients were studied. Their history, examination and relevant investigations were carried out at initial presentation to find all required details including age, gender, etiology of HCC, number and size of hepatic lesions, Child Pugh class, performance status, BCLC scoring, vascular invasion of tumor, lymph nodal involvement and metastasis; at time of diagnosis of hepatocellular carcinoma. Treatment was offered based on all these parameters, as per latest AASLD guidelines. Data were entered in SPSS version 24 for statistical analysis.
Results: Of the total 157 patients, 117 (75%) were males and 40 (25%) were females. Mean age was 60.4 ± 8.67 years. Majority of HCC cases (84%) were HCV infected. Performance status was 0 or 1 in 87% cases. Around 52% patients had huge size of lesion, >5cm, at presentation. Child Pugh score was A for 68% patients. BCLC score was B, C or D in 70% cases which implies intermediate or advanced disease where curative treatments could not be performed. TACE was the most frequent treatment offered (33% cases), followed by Sorafenib (29% cases).
Conclusion: Hepatocellular carcinoma was found to be on the rise in our setup as a consequence of the huge prevalence of HCV infection. Most patients were males presenting at intermediate or advanced stage disease where curative treatments were not possible.
Downloads
Download data is not yet available.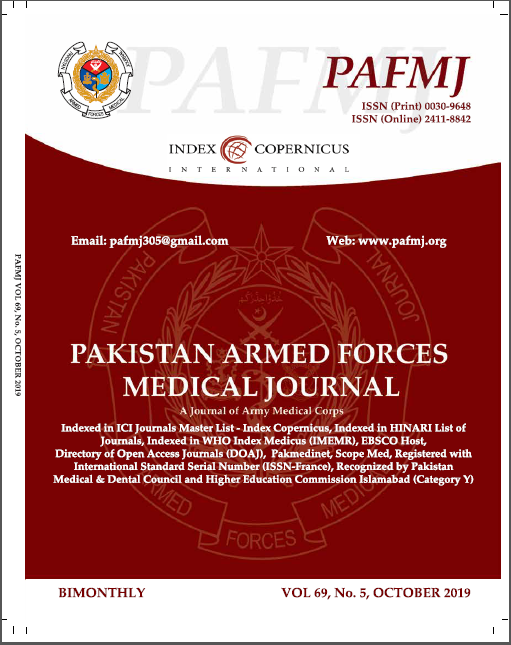 How to Cite
Shehzad, A., Sajjad, R., Shabbir, K., Qureshi, Z., Saeed, F., & Qamar, A. (2019). HEPATOCELLULAR CARCINOMA AT INITIAL PRESENTATION AND ITS SUBSEQUENT THERAPEUTIC OPTIONS OFFERED: A TERTIARY CARE HOSPITAL EXPERIENCE. Pakistan Armed Forces Medical Journal, 69(5), 1051-56. Retrieved from https://pafmj.org/index.php/PAFMJ/article/view/3412
Section
Original Articles