USE OF ICF-CY IN ASSESSING LEVEL OF KNOWLEDGE OF DIFFERENT PROFESSIONALS WORKING WITH CHILDREN HAVING CEREBRAL PALSY
Hina Azhar

Children"s Hospital & Institute of Child Health, Lahore Pakistan

Shazia Maqbool

Children"s Hospital & Institute of Child Health, Lahore Pakistan

Ehsan Ullah

Children"s Hospital & Institute of Child Health, Lahore Pakistan

Taimoor Khan

Children"s Hospital & Institute of Child Health, Lahore Pakistan
Keywords:
Cerebral Palsy, Knowledge of ICF-CY, Multidisciplinary approach
Abstract
Objective: To assess and compare level of knowledge of doctors and allied health professionals working with cerebral palsy children at the Children"s Hospital, Lahore regarding use of ICF-CY
Study Design: Comparative - cross sectional study.
Place and Duration of Study: The Children"s Hospital and Institute of Child Health, Lahore, from Jan 2017 to Mar 2017.
Methodology: Sixty two professionals, 31 doctors and 31 allied health professionals, who were primarily involved in rehabilitation of children with cerebral palsy were included. Detailed information was taken from these professionals regarding their baseline knowledge for the use of ICF-CY in children with cerebral palsy using comprehensive core set of ICF-CY. Tutorial sessions were conducted for creating awareness of ICF-CY. Same
information was recorded again and level of knowledge was assessed. Post tutorial comparison was made between the knowledge of two groups by applying t-test.
Results: Study showed that participants had fair knowledge of use of different constructs of ICY-CY in children with cerebral palsy after conducting tutorial sessions. There was increase in knowledge in all constructs after tutorials but marked change was observed in Activities & participation. Level of knowledge was 3.4 in both groups. It was increased up to 4.9 by doctors and 4.8 by allied health professionals. No significant difference was
found among knowledge of these two groups for all constructs.
Conclusion: Different professionals working with cerebral palsy children at the Children"s Hospital, Lahore were able to use ICF-CY competently to acquire information as they gained sufficient similar level of knowledge in all subsets after getting tutorials.
Downloads
Download data is not yet available.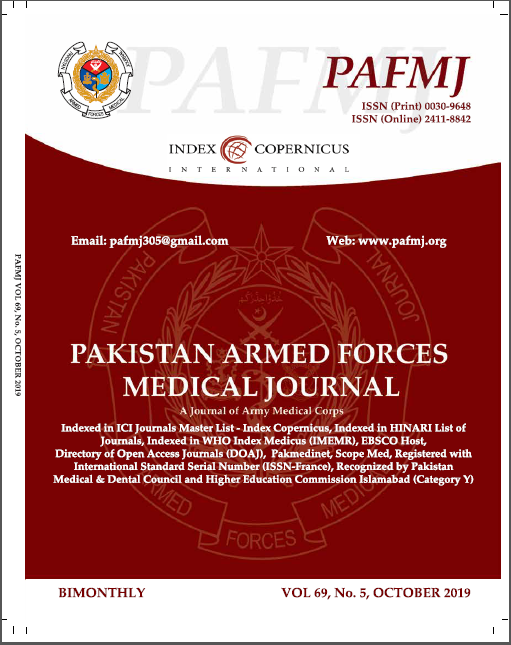 How to Cite
Azhar, H., Maqbool, S., Ullah, E., & Khan, T. (2019). USE OF ICF-CY IN ASSESSING LEVEL OF KNOWLEDGE OF DIFFERENT PROFESSIONALS WORKING WITH CHILDREN HAVING CEREBRAL PALSY. Pakistan Armed Forces Medical Journal, 69(5), 1035-40. Retrieved from https://pafmj.org/index.php/PAFMJ/article/view/3409
Section
Original Articles