ASSOCIATION OF THROMBOCYTOPENIA AND PROLONGED BLEEDING TIME IN DENGUE WITH THE CLINICAL OUTCOME OF THE PATIENT
Zareen Irshad

Jinnah Sindh Medical University, Karachi Pakistan

Asma Shabbir

Jinnah Sindh Medical University, Karachi Pakistan

Asma Shaikh

Jinnah Sindh Medical University, Karachi Pakistan

Syed Mehmood Hasan

Jinnah Sindh Medical University, Karachi Pakistan

Muhammad Abid

Combined Military Hospital Gilgit Pakistan
Keywords:
Bleeding time, Clinical outcome, Dengue, Thrombocytopenia
Abstract
Objective: To find out the frequency of thrombocytopenia and prolonged bleeding time in dengue fever and its effect on clinical outcome of patients.
Study Design: Cross-sectional study.
Place and Duration of Study: The study was conducted, from August 2016 to February 2017 in the Haematology department, at Pakistan Naval Ship (PNS) Shifa, Karachi.
Methodology: The study was conducted on serologically proven positive dengue IgM cases fulfilling inclusion and exclusion criteria. Platelet count was done on Beckman Coulter and Sysmex analyzers and then rechecked manually by peripheral blood smear. Bleeding time measured by the Duke method. The clinical outcome was evaluated on the day of discharge (based on survival of the patient and their lab values) or the patient expired
and their lab values.
Results: A total of 135 patients were evaluated in the study. The mean age of the patients was 29.12 ± 13 yrs (range: 2-63 years). The thrombocytopenia was observed in one hundred and eleven (82.2%) patients. Severe thrombocytopenia was observed in nine (6.7%) cases, moderate thrombocytopenia was found in thirty (22.2%) cases and mild thrombocytopenia was observed in seventy-two (53.3%) cases. Bleeding time more than nine minutes was observed only in one case. Out of 135 patients, two (1.48%) expired and one hundred and thirtythree
(98.52%) survived and were discharged.
Conclusion: We observed that platelet count can be a predictor of disease and its progression, but the absence of either cannot be used to exclude the progression of the disease. Dengue continues to be a significant health problem in Pakistan.
Downloads
Download data is not yet available.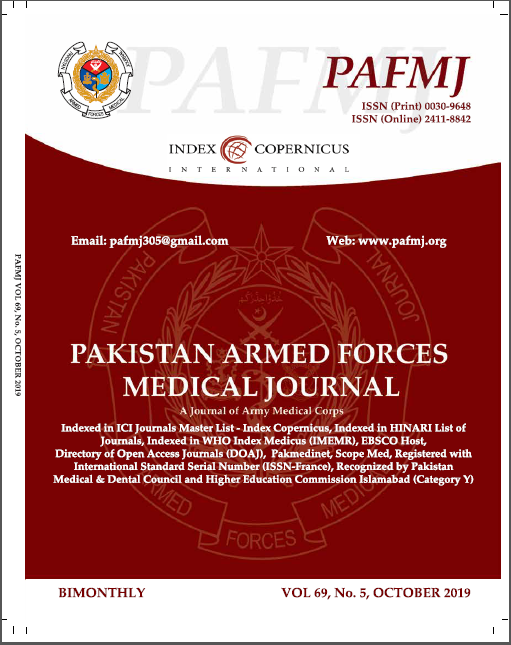 How to Cite
Irshad, Z., Shabbir, A., Shaikh, A., Hasan, S., & Abid, M. (2019). ASSOCIATION OF THROMBOCYTOPENIA AND PROLONGED BLEEDING TIME IN DENGUE WITH THE CLINICAL OUTCOME OF THE PATIENT. Pakistan Armed Forces Medical Journal, 69(5), 1029-34. Retrieved from https://pafmj.org/index.php/PAFMJ/article/view/3408
Section
Original Articles