CLINICAL PROFILE OF THE PREMONITORY PHASE OF MIGRAINE AMONG THE PATIENTS AT NEUROLOGY DEPARTMENT OF A TERTIARY CARE HOSPITAL OF PAKISTAN
Saeed Arif

Pak Emirates Military Hospital/National University of Medical Sciences (NUMS) Rawalpindi Pakistan

Asif Hashmat

Pak Emirates Military Hospital/National University of Medical Sciences (NUMS) Rawalpindi Pakistan

Wasim Alamgir

Pak Emirates Military Hospital/National University of Medical Sciences (NUMS) Rawalpindi Pakistan

Wasim Wali Muhammad

Pak Emirates Military Hospital/National University of Medical Sciences (NUMS) Rawalpindi Pakistan
Keywords:
Clinical profile, Migraine, Premonitory phase
Abstract
Objective: To assess the clinical profile of the premonitory phase of migraine among the patients presenting with acute attack of migraine at a neurology unit of a tertiary care teaching hospital of Pakistan.
Study Design: Cross sectional study.
Place and Duration of Study: Neurology department, Pak Emirates Military Hospital Rawalpindi. One year, from 1st May 2017 to 30th April 2018.
Methodology: The sample population comprised of 201 patients of new or previously diagnosed migraine presenting with acute attack at neurology department of PEMH Rawalpindi. Migraine was diagnosed by the consultant neurologist on the basis of International Classification of Headache Disorders diagnostic criteria for migraine. Symptoms of the premonitory phase were classed as Fatigue and musculoskeletal problems, cognitive and affective problems, homeostatic alterations, perceptual abnormalities, affective symptoms and others.
Results: Out of 201 patients of migraine reporting in neurology OPD, 90.1% patients reported at least one symptom of premonitory phase. Male to female ratio of the patients was 1:3. Affective symptoms including low mood was the commonest symptoms reported among the target population followed by fatigue. Mean age of patients included in the study was 33.43 ± 3.845 years. Sleep disturbance was the least reported premonitory phase symptom among the patients of migraine in our study.
Conclusion: There was high frequency of premonitory phase symptoms among the patients of migraine headaches in Pakistan. Sensitivity and severity of these symptoms need to be assessed routinely among the target population in order to effectively treat this headache syndrome with holistic approach.
Downloads
Download data is not yet available.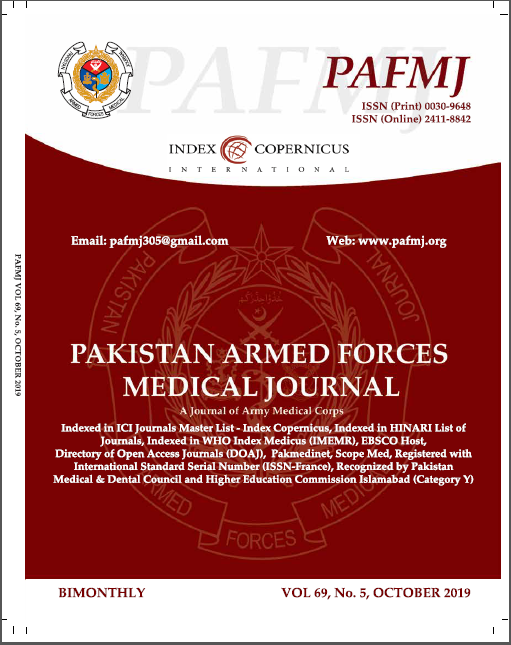 How to Cite
Arif, S., Hashmat, A., Alamgir, W., & Muhammad, W. (2019). CLINICAL PROFILE OF THE PREMONITORY PHASE OF MIGRAINE AMONG THE PATIENTS AT NEUROLOGY DEPARTMENT OF A TERTIARY CARE HOSPITAL OF PAKISTAN. Pakistan Armed Forces Medical Journal, 69(5), 1015-19. Retrieved from https://pafmj.org/index.php/PAFMJ/article/view/3405
Section
Original Articles