DIAGNOSTIC ACCURACY OF RETICULOCYTE HAEMOGLOBIN EQUIVALENT (RETHE) IN DETECTING IRON DEFICIENCY ANAEMIA KEEPING SERUM FERRITIN AS GOLD STANDARD
Keywords:
Diagnostic Accuracy, Iron deficiency anemia, Reticulocyte Haemoglobin Equivalent (Ret-He), Serum ferritin
Abstract
Objective: To determine the diagnostic accuracy of Ret-He in detecting IDA, keep ingserum ferritin as goldstandard
Study Design: Cross sectional study.
Place and Duration of Study: Department of Haematology, AFIP Rawalpindi, from Jan to Jul 2017.
Methodology: Study involved 165 female patients who presented with anemia (hemoglobin <11g/dl). Ret-He was determined having a level of <27.8 pg/L as diagnostic of IDA. Diagnosis of IDA was confirmed on serum ferritin level <11 ng/ml taking it as gold standard. Accordingly, diagnostic accuracy of Ret-He was determined considering low serum ferritin level as gold standard.
Results: The mean age of the patients was 27.52 ± 13.57 years. Mean hemoglobin level was 9.17 ± 1.59 g/dl while mean serum ferritin level was 15.20 ± 12.89 ng/ml. Ret-He ranged from 11.0 pg/L to 39.4 pg/L with a mean of 23.34 ± 8.21 pg/L. IDA on the basis of serum ferritin level was diagnosed in 75 (45.5%) patients while Ret-He labeled IDA in 85 (51.5%) patients. When cross-tabulated, there were 70 TP, 15 FP, 5 FN and 75 TN cases which yielded 93.33% sensitivity, 83.33% specificity, 87.88% accuracy, 82.35% PPV and 93.75% NPV for Ret-He in diagnosing IDA keeping serum ferritin as gold standard. Thus the optimal cut-off value of Ret-He was found to be <27.6 pg/L which gave 93.33% sensitivity and 83.33% specificity in detecting IDA keeping serum ferritin as gold standard.
Conclusion: Ret-He was found as fast and reliable technique to diagnose IDA in female population. However, further studies are required for confirmation of its efficacy.
Downloads
Download data is not yet available.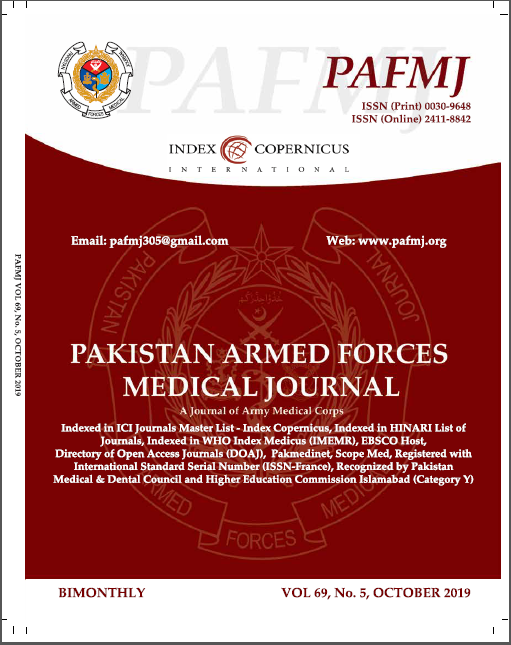 Downloads
How to Cite
Khan, N., Altaf, C., Malik, H. S., Sajjad, Z., Khurshid, A., & Khadim, M. T. (2019). DIAGNOSTIC ACCURACY OF RETICULOCYTE HAEMOGLOBIN EQUIVALENT (RETHE) IN DETECTING IRON DEFICIENCY ANAEMIA KEEPING SERUM FERRITIN AS GOLD STANDARD. Pakistan Armed Forces Medical Journal, 69(5), 1010–14. Retrieved from https://pafmj.org/PAFMJ/article/view/3404
Section
Original Articles