DENTIN ADHESIVE LINER VS COPAL VARNISH FOR THE PREVENTION OF POSTOPERATIVE SENSITIVITY IN AMALGAM RESTORATIONS
Keywords:
Dentin adhesive, Dental amalgam, Postoperative sensitivity
Abstract
Objective: To compare the efficacy of dentin adhesive liner with Copal varnish for the prevention of postoperative sensitivity in amalgam restorations.
Study Design: Quasi experimental study.
Place and Duration of Study: The study was conducted at operative dentistry department, 28 Military Dental Centre, Lahore for nine months, from Nov 2017 to Jun 2018.
Methodology: Two Hundred and Six patients of 18 to 40 years age group, requiring class 1 restorations in their teeth. The subjects were randomly divided into two equal groups. The test teeth were isolated and assessed for sensitivity by the application of ethyl chloride. Class 1 cavities, not exceeding 2mm in depth were prepared. Two coats of Copal varnish (Copalite, Cooley & Cooley Ltd. USA.) were applied on enamel and dentin surfaces in group A. In group B, the surfaces were acid etched and dentin adhesive liner (AdperTM Single Bond Plus Adhesive 3M ESPE) was applied and cured for 10 seconds. The prepared cavities were restored with admixed amalgam using Ultracaps S capsules, and evaluated for sensitivity at 24 hour and one week interval postoperatively. Data were analyzed by SPSS version 21.
Results: Comparing both groups after the procedure, group B showed statistically significant lower mean VAS score than group A, at 24 hour (p<0.001 ) and seven days (p=0.001) intervals postoperatively.
Conclusion: Dentin adhesive liner was more effective than Copal Varnish in reducing postoperative sensitivity when used under amalgam restorations.
Downloads
Download data is not yet available.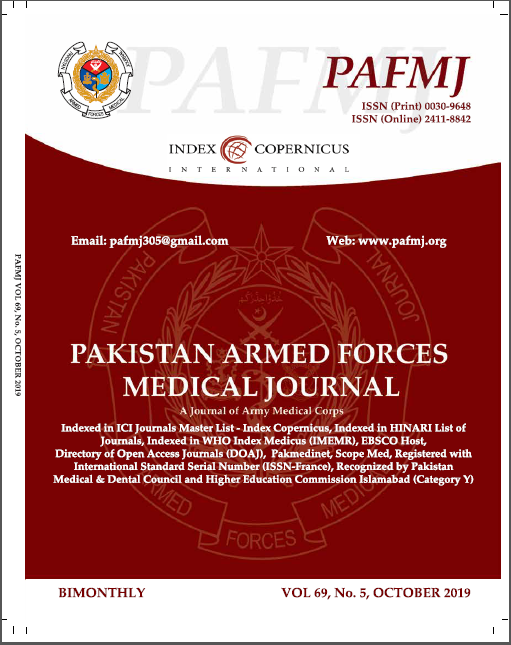 Downloads
How to Cite
., M., Rana, N. A., & Akhtar, Q. (2019). DENTIN ADHESIVE LINER VS COPAL VARNISH FOR THE PREVENTION OF POSTOPERATIVE SENSITIVITY IN AMALGAM RESTORATIONS. Pakistan Armed Forces Medical Journal, 69(5), 1004–09. Retrieved from https://pafmj.org/PAFMJ/article/view/3403
Section
Original Articles