EVALUATION OF CLINICAL SYMPTOMATOLOGY IN PATIENTS WITH HASHIMOTO'S ENCEPHALOPATHY AND ASSOCIATION WITH UNDERLING THYROID DISEASE
Asif Hashmat

Pak Emirates Military Hospital/National University of Medical Sciences (NUMS) Rawalpindi Pakistan

Wasim Alamgir

Pak Emirates Military Hospital/National University of Medical Sciences (NUMS) Rawalpindi Pakistan

Saeed Arif

Pak Emirates Military Hospital/National University of Medical Sciences (NUMS) Rawalpindi Pakistan

Jahanzeb Liaqat

Pak Emirates Military Hospital/National University of Medical Sciences (NUMS) Rawalpindi Pakistan
Keywords:
Hashimoto's encephalopathy, Non-vasculitic autoimmune inflammatory meningoencephalitis (NAIM), Steroid-responsive encephalopathy with autoimmune thyroiditis (SREAT)
Abstract
Objective: To determine the frequency of different neurological features in Hashimoto's encephalopathy and to evaluate association with underling disease.
Study Design: Cross sectional study.
Place and Duration of Study: A Three-year study from Jul 2015 to Jul 2018. Conducted in Pak Emirates Military Hospital (PEMH) Rawalpindi.
Methodology: This study is comprised of diagnosed patients of Hashimoto's encephalopathy. These patients fulfilled the diagnostic criteria. Any case with metabolic, toxic, vascular or malignant etiology of encephalopathy was excluded. Data regarding clinical symptoms particularly neurological and neuropsychiatric features, of diagnosed cases with Hashimoto's encephalopathy was obtained from hospital record. Moreover, data about antithyroid antibody type, cerebrospinal fluid analysis, and MRI findings was gathered. Gender and age of the patients were also mentioned. Data was gathered on proforma by a resident doctor. The analysis was carried out using SPSS 20. Results were mentioned in the form of the mean for variables like age and percentage and frequencies for categorical variables.
Results: Out of 13 patients, 5 (38.5%) were male and 8 (61.5%) were females. Majority of the patients 8 (61.5%) were euthyroid. Neuropsychiatric symptoms were present in all 13 patients with depression present in 8 (61.5%) cases, while 5 (38.4%) had hallucinations. Most cases were cognitively normal 8 (61.5%), while rest had mild impairment. No neurological manifestation was found significantly more common in any of the thyroid disease. Migraine-like headaches was present in 4 (30.7%) cases while epileptic seizures were present in 8 (61.5%) patients with GTCS the most common seizures type in 3 (23%) patients. Only three patient had MRI changes including temporal and hippocampal T2WI hyperintensities.
Conclusion: If etiological factors for encephalopathy has been ruled out in the presence of underlying thyroid disease with a short history of symptoms, one should have a low threshold for treatment with the steroid to observe for the response.
Downloads
Download data is not yet available.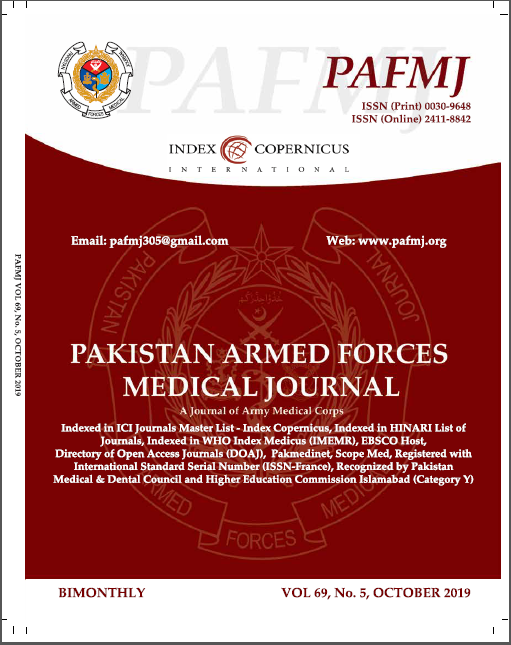 How to Cite
Hashmat, A., Alamgir, W., Arif, S., & Liaqat, J. (2019). EVALUATION OF CLINICAL SYMPTOMATOLOGY IN PATIENTS WITH HASHIMOTO'S ENCEPHALOPATHY AND ASSOCIATION WITH UNDERLING THYROID DISEASE. Pakistan Armed Forces Medical Journal, 69(5), 971-76. Retrieved from https://pafmj.org/index.php/PAFMJ/article/view/3397
Section
Original Articles