ROLE OF PERIOPERATIVE ANALGESIA WITH ACETAMINOPHEN IN REDUCING PAIN FOLLOWING ELECTROCONVULSIVE THERAPY
Sana Khan

Armed Forces Institute of Mental Health/National University of Medical Sciences (NUMS) Rawalpindi Pakistan

Rashid Qayyum

Armed Forces Institute of Mental Health/National University of Medical Sciences (NUMS) Rawalpindi Pakistan

Khalid Buland

Armed Forces Institute of Mental Health/National University of Medical Sciences (NUMS) Rawalpindi Pakistan

Mehwish Ujala

Armed Forces Institute of Cardiology/National University of Medical Sciences (NUMS) Rawalpindi Pakistan

Usama Bin Zubair

Pakistan Institute of Medical Sciences (NUMS) Islamabad Pakistan
Keywords:
Electroconvulsive therapy, Headache, Myalgia, Perioperative analgesia, Quasi experimental study
Abstract
Objective: To assess the efficacy of perioperative analgesia with acetaminophen in reducing the occurrence and severity of post-ECT pain.
Study Design: Quasi experimental study.
Study Place and Duration: Tertiary care mental health facility at Rawalpindi, Jun to Nov 2018.
Methodology: Patients of all age groups and either gender for whom elective ECT was recommended during the study time period were included in the study. Acetaminophen (1g/100ml) and placebo (100ml) infusions were infused according to randomized sequence during ECT session. Study participants were assessed for presence and severity of pain i.e. headache and/or myalgia, two hours before and after ECT by using visual analog scale (VAS).
Results: A sum of 146 study participants were randomized to either receive intervention (Group A) or placebo (Group B), both the groups comprised of 73 participants each. The frequency of post-ECT headache and myalgia in group A, who received acetaminophen infusion, was 8.2% and 2.7% respectively as compared to placebo group B where incidence of post-ECT headache and myalgia was reported to be 24.7% and 10.9% respectively (8.2% vs 24.7%, p 0.013 and 2.7% vs 10.9%, p 0.03 respectively). Uni-variate analysis showed that participants in group A were 72.6% less likely to develop post-ECT headache (OR 0.27, 95% CI 0.11-0.73, p 0.007), and 55% less likely to develop post-ECT myalgia (OR 0.45, 95% CI 0.21-0.80, p 0.01) than participants in group B.
Conclusion: Acetaminophen has been found effective in reducing the incidence and severity of headache and myalgia following electroconvulsive therapy.
Downloads
Download data is not yet available.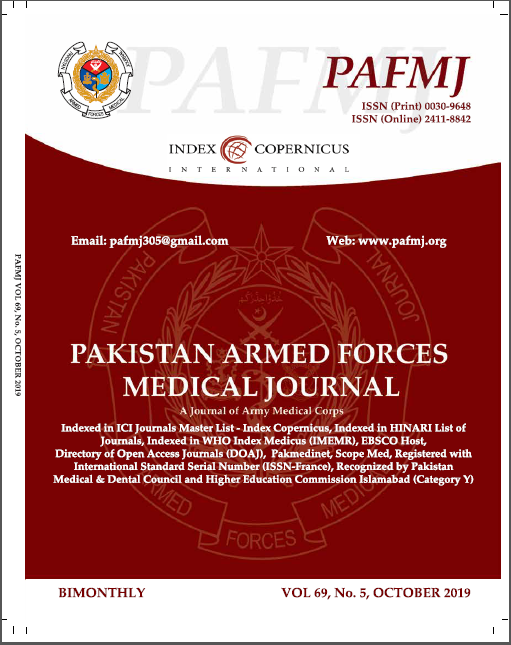 How to Cite
Khan, S., Qayyum, R., Buland, K., Ujala, M., & Zubair, U. (2019). ROLE OF PERIOPERATIVE ANALGESIA WITH ACETAMINOPHEN IN REDUCING PAIN FOLLOWING ELECTROCONVULSIVE THERAPY. Pakistan Armed Forces Medical Journal, 69(5), 943-48. Retrieved from https://pafmj.org/index.php/PAFMJ/article/view/3392
Section
Original Articles