EFFECTS OF THREE ORAL ANALGESICS ON POSTOPERATIVE PAIN FOLLOWING ROOT CANAL PREPARATION: A CONTROLLED CLINICAL TRIAL
Shahid Islam

Fatima Jinnah Dental College/CPSP

Muhammad Ali

Fatima Jinnah Dental College Hospital, Karachi Pakistan

Abubakar Shaikh

Fatima Jinnah Dental College Hospital, Karachi Pakistan

Saqib Rashid

Fatima Jinnah Dental College Hospital, Karachi Pakistan

Tasleem Hosein

Fatima Jinnah Dental College Hospital, Karachi Pakistan

Jiand Baloch

Sundeman Provincial Hospital, Quetta Pakistan
Keywords:
NSAIDS, endodontics, analgesics, pain management, pulpectomy, irreversible pulpitis, postendodontic pain
Abstract
Objective: To compare the effect of single dose of three analgesics on postoperative endodontic pain following pulpectomy in teeth with irreversible pulpitis.
Study Design: A quasi-experimental study.
Place and Duration of Study: Endodontics Department, Fatima Jinnah Dental College Hospital Karachi, from Jan to Oct 2018.
Methodology: In this Double Blind placebo controlled study, 120 subjects coming with the complaint of irreversible pulpitis in any one tooth were randomly allocated into 4 groups. Each group took either naproxen sodium (550mg), ibuprofen (400mg), tramadol (100mg) or placebo medication (multivitamin tablet) immediately after the pulpectomy appointment. A questionnaire was designed to assess the experienced pain based on VAS scale at 6, 12 and 24 hours postoperatively. KruskalWallis test was applied followed by post-hoc analysis to compare the VAS scores by taking p-value ≤0.05 as significant.
Results: Pain levels were significantly lower in experimental groups as compared to placebo (p<0.001) but there was no statistically significant difference between the effectiveness of naproxen, ibuprofen and tramadol at 6, 12 and 24 hours postoperatively.
Conclusion: Naproxen, Ibuprofen and Tramadol were found to beequally effective in reducing pain after instrumentation in teeth with irreversible pulpitis.
Downloads
Download data is not yet available.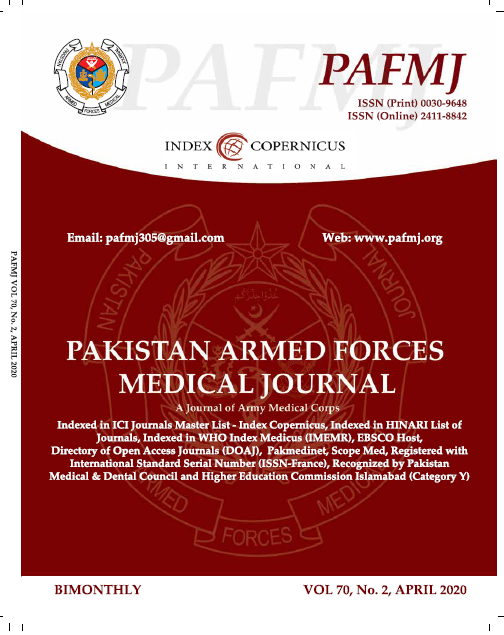 How to Cite
Islam, S., Ali, M., Shaikh, A., Rashid, S., Hosein, T., & Baloch, J. (2021). EFFECTS OF THREE ORAL ANALGESICS ON POSTOPERATIVE PAIN FOLLOWING ROOT CANAL PREPARATION: A CONTROLLED CLINICAL TRIAL. Pakistan Armed Forces Medical Journal, 71(2), 526-29. https://doi.org/10.51253/pafmj.v71i2.3391
Section
Original Articles