TOWARDS SYNTHETIC GENOMICS: WHAT NEXT TO COME AFTER GENOME EDITING?
Sikandar Hayat Khan

Pakistan Naval Ship (PNS), Hafeez Islamabad Pakistan
Abstract
The recent times had seen a technological outburst in all domains of life. Healthcare, biotechnology and bioinformatics is no exception to the rule, where we now in real-time anticipate the evolution from conventional medicine to molecular medicine. It has been established that molecular medicine and related diagnostic pathology is already changing the landscape of personalized medicine with now curative therapeutics seem well in sight than ever before. Current day genome engineering technologies like Cluster Regularly Interspaced Short Palindromic Repeats (CRISPR) and its various novel innovations is now providing "hope" and a "way forward" for complete eradication of various communicable and non-communicable ailments. Advances can already been made to address some of the major health related metabolic killers like diabetes, hypertension, stroke, heart disease and genetic diseases of multiple categories.
As we clearly anticipate the incoming biotechnology to evade healthcare market we need to be aware of its lefts and rights, welloriented about the use of such methodology and know-ledgeable enough to manage such technology. We also need to be aware of its appropriate use, rather be more concerned about misuse and abuse in the world currently dealing with newer faces of terrorism. In order to step further towards the appropriate usage of this biotechnology we need to define methodologically error-free path for its implementation. Following are the recommendations and suggestion to translate the shared vision into actionable and plausible steps:



Downloads
Download data is not yet available.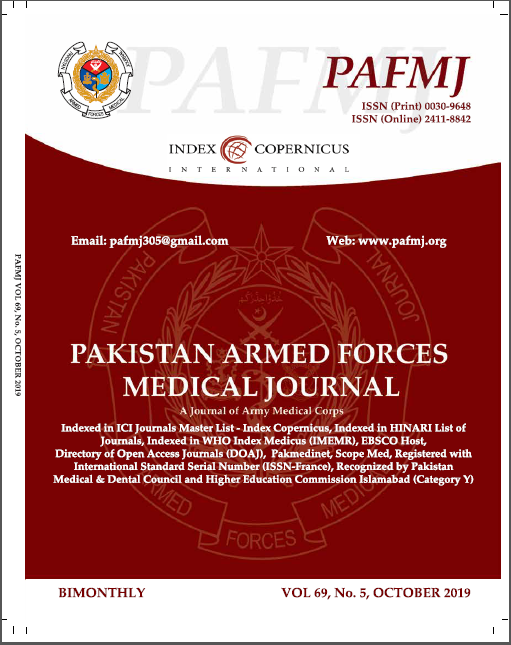 How to Cite
Khan, S. (2019). TOWARDS SYNTHETIC GENOMICS: WHAT NEXT TO COME AFTER GENOME EDITING?. Pakistan Armed Forces Medical Journal, 69(5), 931-33. Retrieved from https://pafmj.org/index.php/PAFMJ/article/view/3387