GONIAL ANGLE DETERMINATION; A COMPARISON BETWEEN LATERAL CEPHALOGRAM AND BOTH HEMISPHERES OF ORTHOPANTOMOGRAM
Mehwish Khan

Armed Forces Institute of Dentistry/National University of Medical Sciences (NUMS) Rawalpindi Pakistan

Faheem Nake Akhtar

Armed Forces Institute of Dentistry/National University of Medical Sciences (NUMS) Rawalpindi Pakistan

Abdullah Jan

Armed Forces Institute of Dentistry/National University of Medical Sciences (NUMS) Rawalpindi Pakistan

Fatima Hamid

Armed Forces Institute of Dentistry/National University of Medical Sciences (NUMS) Rawalpindi Pakistan

Sana Tariq

Armed Forces Institute of Dentistry/National University of Medical Sciences (NUMS) Rawalpindi Pakistan
Keywords:
Gonial angle, Lateral cephalograph, Orthopantomogram
Abstract
Objective: To evaluate the mean values of Genial angle measured by Lateral cephalogram and Orthopantomogram.
Study Design: comparative cross sectional study.
Place and Duration of Study: Armed Forces Institute of Dentistry, Rawalpindi, from Aug 2018 to Feb 2019.
Methodology: Patients irrespective of gender between the ages of 13-20 who reported for the treatment of class I malocclusion with complete anterior dentition were included. Orthopantomogram and lateral cephalogram were drawn by the same person. Gonial angle on orthopantomogram was measured by drawing tangents on posterior border of ramus and lower border of mandible on both halves of orthopantomogram. On lateral cephalogram the angle was measured between ramus and mandible. Gonial angle measured from lateral cephalogram and orthopantomogram were compared. T-test was applied.
Results: Mean age of the individuals was 18.33 ± 3.97 years. The mean gonial angle measured on lateral cephalogram was 122.66 ± 1.64 degrees while the mean gonial angle measured on right and left side of orthopantomogram was 122.41 ± 1.56 degrees and 122.33 ± 1.55 degrees respectively.
Conclusion: Orthopantomogram can also be used to measure gonial angle as accurately as a lateral cephalogram with the advantage that there are no superimpositions and both the gonial angles can be measured simultaneously on orthopantomogram.
Downloads
Download data is not yet available.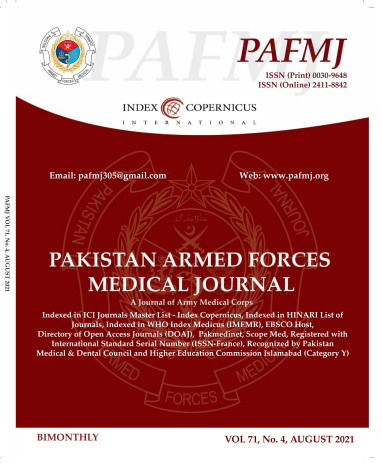 How to Cite
Khan, M., Akhtar, F., Jan, A., Hamid, F., & Tariq, S. (2021). GONIAL ANGLE DETERMINATION; A COMPARISON BETWEEN LATERAL CEPHALOGRAM AND BOTH HEMISPHERES OF ORTHOPANTOMOGRAM. PAFMJ, 71(4), 1460-63. https://doi.org/10.51253/pafmj.v71i4.3346
Section
Original Articles