PROCEDURAL TECHNICALITIES AND OUTCOME OF TRANSCATHETER CLOSURE OF ATRIAL SEPTAL DEFECT USING OCCLUTECH DEVICE IN TERTIARY CARE CENTRE
Asma Kanwal

Rawalpindi Institute of Cardiology, Rawalpindi Pakistan

Abdul Malik Shiekh

Rawalpindi Institute of Cardiology, Rawalpindi Pakistan

Kiran Azim

Rawalpindi Institute of Cardiology, Rawalpindi Pakistan

Khushal Khan Khattak

Rawalpindi Institute of Cardiology, Rawalpindi Pakistan
Keywords:
Atrial septal defects, Congenital heart defects, Occlutech device, Transcatheter closure
Abstract
Objective: To determine the safety and efficacy of transcatheter closure of atrial septal defects and to evaluate the initial, midterm and long-term results of the treatment.
Study Design: Cross sectional study.
Place and Duration of Study: Department of Paediatric Cardiology, Rawalpindi Institute of Cardiology, Rawalpindi, from Jul 2017 to Jun 2018.
Methodology: Sixty-four patients underwent transcatheter closure of atrial septal defect. Size of the defect was measured by Transoesophageal/Transthoracic. Follow up was carried out at twenty-four hours, one month, six months and at twelve months. Early, Midterm and late complications after device occlusion were analysed using SPSS-22 statistical software.
Results: Minimum size of atrial septal defect on echocardiography was 7 mm and maximum size was 31 mm with mean of 18.3 ± 5.7 mm. The procedure was successful in 96.8% cases. There was only one device embolization (1.56%). Cobrahead" configuration malformation of the device occurred in one case (1.56%). Mitral valve regurgitation did not occur in any of the case. There was no residual shunt across the device in the present study. ECG abnormalities associated with transcatheter closure did not occur in any of the patient. In intermediate and long-term follow up, no complication like cardiac erosion was seen in all cases under study.
Conclusion: Transcatheter occlusion of ASD with device was found effective and safe procedure with minimal complication rate, short hospital stay, good short, intermediate and long-term results.
Downloads
Download data is not yet available.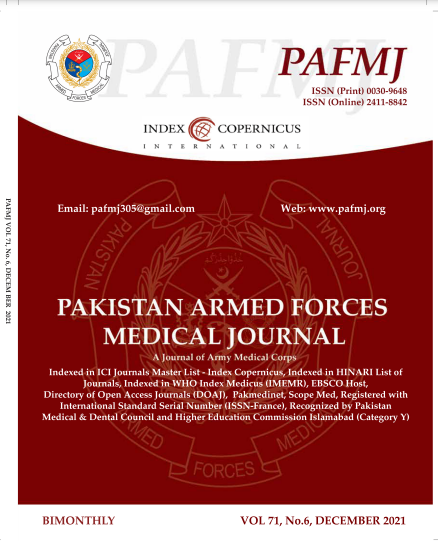 How to Cite
Kanwal, A., Shiekh, A., Azim, K., & Khattak, K. (2021). PROCEDURAL TECHNICALITIES AND OUTCOME OF TRANSCATHETER CLOSURE OF ATRIAL SEPTAL DEFECT USING OCCLUTECH DEVICE IN TERTIARY CARE CENTRE. PAFMJ, 71(6), 2170-74. https://doi.org/10.51253/pafmj.v71i6.3342
Section
Original Articles