EFFECTIVENESS OF KINESIOLOGICAL TAPE IN MYOFASCIAL PAIN SYNDROME OF GASTROCNEMIUS MUSCLE
Kinesiological Tape Effectiveness in Myofascial Pain Syndrome
Riffat Asghar Gill

National Cricket Academy Islamabad Pakistan

Muhammad Salman Bashir

Riphah International University Islamabad Pakistan

Kehkshan Khalid

Imperial College of Business Studies Lahore Pakistan

Naveed Anwar

National Cricket Academy Islamabad Pakistan
Keywords:
Athletic tape, Myofascial pain syndromes, Muscle, Pain, Treatment outcome
Abstract
Objective: To see the effectiveness of kinesiological tape in myofascial pain syndrome of gastrocnemius muscle for the early recovery after injury and thus increase functional outcome.
Study Design: Quasi-experimental study.
Place and Duration of Study: National cricket academy Lahore and Sports and Spine Professional's Clinic, Defense Phase-IV Lahore Pakistan, from Aug 2017 to Oct 2017.
Methodology: Consecutive sampling technique was used to enrol the patients of myofascial pain syndrome based on the predefined inclusion and exclusion criteria. Patients were selected and the kinesiological tape was applied thrice a week for two consecutive weeks. the patient was then re-evaluated after every two days of previous kinesiological tape application in terms of the visual Analogue Scale.
Results: It was observed that kinesiological tape had a significant effect on pain reduction of the myofascial pain syndrome of the gastrocnemius muscle (p<0.001). There was a significant reduction of pain level after application of Kinesio tape till 4th application with pre-treatment means 6.70 ± 1.45 that was reduced to 2.98 ± 2.24 in post-treatment (p<0.05). In addition, there was no significant reduction of pain between the 5th and 6th application with mean for the 6th session as 2.96 ± 2.27 (p>0.05).
Conclusion: The Kinesiological tape has a significant effect on pain reduction of gastrocnemius muscle suffering from myofascial pain syndrome. The application of kinesiological tape has maximum effect up to its 4th application. After 5th session of taping, the effect was almost constant.
Keywords: ,  , , .
Downloads
Download data is not yet available.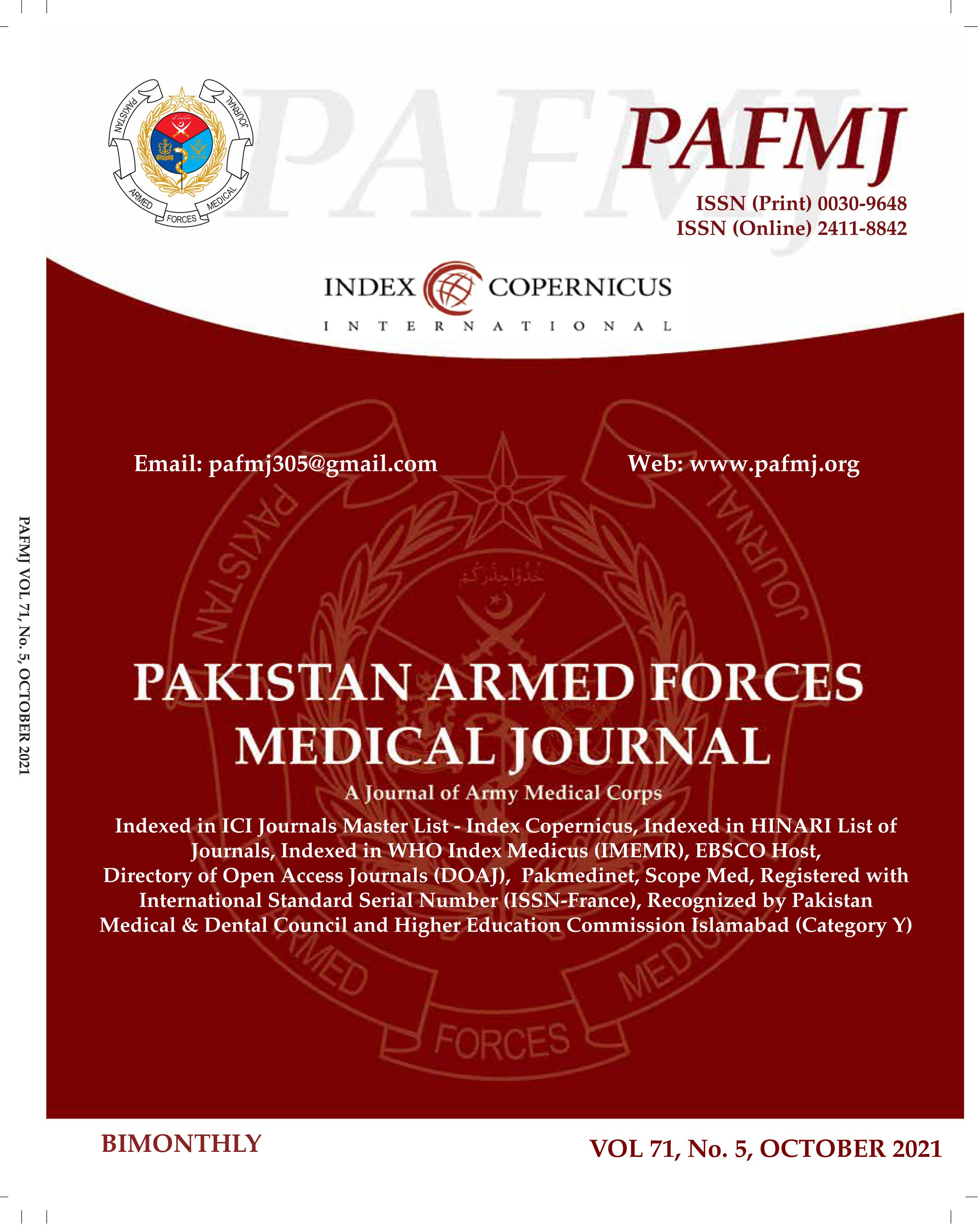 How to Cite
Gill, R. A., Bashir, M. S., Khalid, K., & Anwar, N. (2021). EFFECTIVENESS OF KINESIOLOGICAL TAPE IN MYOFASCIAL PAIN SYNDROME OF GASTROCNEMIUS MUSCLE. PAFMJ, 71(5), 1666-68. https://doi.org/10.51253/pafmj.v71i5.3327
Section
Original Articles