RENAL DISEASE IN SYSTEMIC LUPUS ERYTHEMATOUS: ALL THAT GLITTERS IS NOT GOLD
Keywords:
Acute interstitial nephritis, Corticosteroids, Lupus nephritis, Vancomycin
Abstract
Patients with systemic lupus erythematosus may occasionally develop renal pathology from causes unrelated to the underlying disease. We describe one such case. This 22-year-old lady, with past history of arthritis, presented with dyspnea and fever. She had clinical signs consistent with systemic lupus erythematosus. Echocardiogram revealed valvular regurgitation. Antibiotics were started for probable infective endocarditis. She developed acute kidney injury. This was initially attributed to lupus nephritis, but subsequently renal histopathology revealed acute interstitial nephritis. Renal functions normalized with oral prednisolone. This case highlights the fact that a broader differential diagnosis must always be considered even if the diagnosis is clear.
Downloads
Download data is not yet available.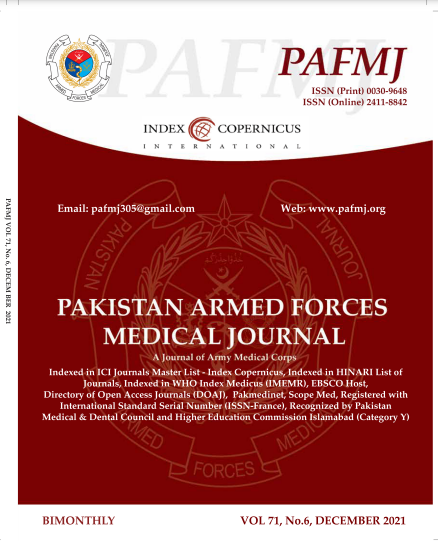 Downloads
How to Cite
Khan, H. W., Arshad, A. R., & Mir, A. W. (2022). RENAL DISEASE IN SYSTEMIC LUPUS ERYTHEMATOUS: ALL THAT GLITTERS IS NOT GOLD. Pakistan Armed Forces Medical Journal, 71(6), 2257–58. https://doi.org/10.51253/pafmj.v71i6.3311