ANATOMICAL VARIATIONS OF EXTRA HEPATIC BILIARY SYSTEM IN PATIENTS UNDERGOING LAPAROSCOPIC CHOLECYSTECTOMY IN CMH & PEMH RAWALPINDI
Keywords:
Anatomic variations, Extra-hepatic biliary tract, Laparoscopic cholecystectomy
Abstract
Objective: To assess the frequency of anatomical variations of the extra-hepatic biliary tract in patients undergoing laparoscopic cholecystectomy in Combined Military Hospital & Pak Emirates Military Hospital Rawalpindi.
Study Design: Comparative cross-sectional study.
Place and Duration of Study: Department of General Surgery, Combined Military Hospital & Pak Emirates Military Hospital, Rawalpindi, from Mar to Aug 2017.
Methodology: A total of 136 patients of either gender with cholelithiasis of more than one month were included. Participants were distributed into equal number of groups for both hospitals by lottery method. All the participants had under gone laparoscopic cholecystectomy by consultant general surgeon or senior registrar under direct supervision. Structures mainly assessed for variations were gall bladder, cystic duct, common hepatic duct, supraduodenal part of common bile duct, cystic artery, and hepatic artery which were characteristically encountered during laparoscopy.
Results: Overall Extra hepatic biliary variations were 136 (23%), at Combined Military Hospital 68 (16%) and Pak Emirates Military Hospital 68 (29.4%). Gall bladder anomaly was seen in 3% patients, cystic duct anomaly 4.4%, supraduodenal part of common bile duct anomaly 0.7%, cystic artery anomaly 11% and hepatic artery anomaly was seen in 3.6% patients (p>0.05).
Conclusion:  Anatomic variations were found to be not uncommon in our set up. Thus, there is a need for doctors to continuously refresh knowledge of normal anatomy and the variants of biliary tract.
Downloads
Download data is not yet available.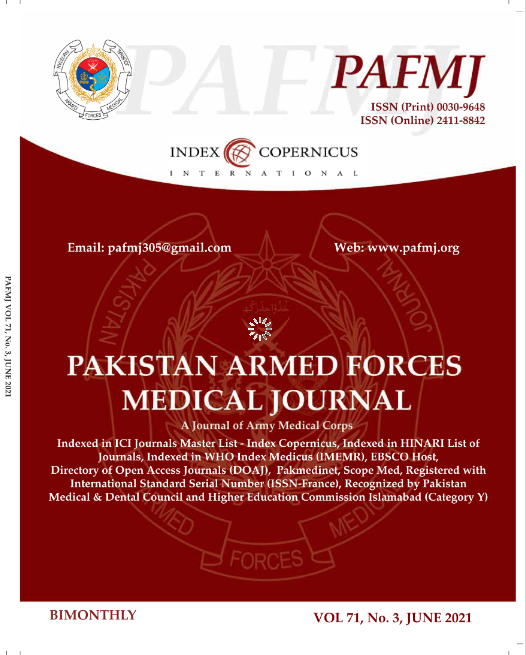 Downloads
How to Cite
Muazzam, M. A., Hussain, S. M., & Qureshi, M. T. A. (2021). ANATOMICAL VARIATIONS OF EXTRA HEPATIC BILIARY SYSTEM IN PATIENTS UNDERGOING LAPAROSCOPIC CHOLECYSTECTOMY IN CMH & PEMH RAWALPINDI. Pakistan Armed Forces Medical Journal, 71(3), 916–19. https://doi.org/10.51253/pafmj.v71i3.3305
Section
Original Articles