The FREQUENCY OF STRESS HYPERGLYCEMIA AND MORTALITY IN PATIENTS WITH HYPERGLYCEMIA IN MEDICAL INTENSIVE CARE UNIT
Keywords:
Intensive care unit, Mortality, Stress hyperglycemia
Abstract
Objective: To assess the frequency of stress hyperglycemia and mortality in patients with hyperglycemia admitted in medical Intensive Care Unit.
Study Design: Cross-sectional study.
Place and Duration of Study: Medical Intensive Care Unit, Combined Military Hospital Quetta, from Nov 2018 to Jun 2019.
Methodology: A total of 150 adult patients of age between 18-80 years, of both genders, with Intensive Care Unit stay >24 hours, who were treated in medical Intensive Care Unit during study period, were included in the study. Those patients with duration of stay <24 hours, paediatric patients, surgical and pregnant patients and those who were on chronic steroid therapy and those who were given TPN and dextrose infusions were excluded. The blood sugar fasting was measured daily and blood sugar random was measured on admission and twice daily. The patients were segregated into three groups: Normoglycemia, Diabetes mellitus and Stress hyperglycaemia. The frequency of patients and outcome of patients in terms of death was observed in all groups.
Results: The mean age of study population was 55.02 ± 18.14 years, with 99 (66%) were males while 51 (34%) were females. Among study population 77 (51.3%) had normoglycemia, 46 (30.7%) had Diabetes Mellitus while 27 (18%) had stress hyperglycaemia. Out of 77 patients with normoglycemia 10 (12.9%) died, while number of deaths in patients with diabetes mellitus and stress hyperglycaemia was 21 (45.6%) and 15 (55.5%) respectively. The mean maximum blood glucose in those who survived and died was 214.39 ± 100.69 mg/dl and 295.26 ± 122.60................ 


Downloads
Download data is not yet available.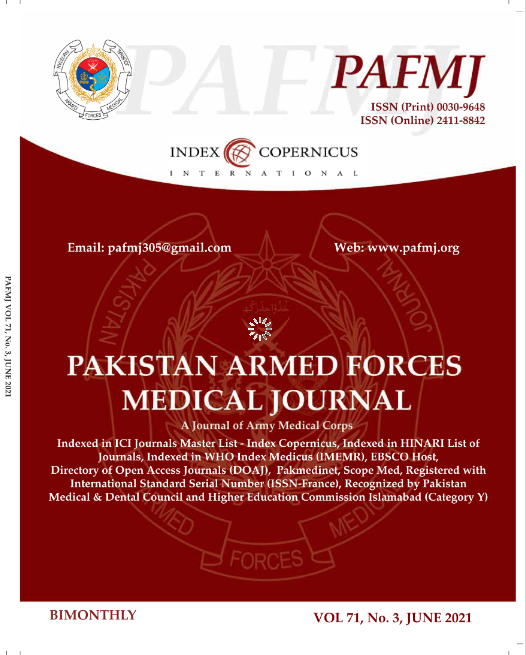 Downloads
How to Cite
Satti, S. A., Khattak, A. L., Tariq, A. M., Majoka, S. M., Naeem, A., & Din, R. U. (2021). The FREQUENCY OF STRESS HYPERGLYCEMIA AND MORTALITY IN PATIENTS WITH HYPERGLYCEMIA IN MEDICAL INTENSIVE CARE UNIT. Pakistan Armed Forces Medical Journal, 71(3), 753–56. https://doi.org/10.51253/pafmj.v71i3.3298
Section
Original Articles