CHOROIDAL THICKNESS IN PATIENTS WITH DIABETIC MACULAR EDEMA
Amash Aqil

Lahore General Hospital, Lahore Pakistan

Muhammad Moin

Lahore General Hospital, Lahore Pakistan

Khadijah Abid

College of Physician and Surgeons Pakistan, Karachi Pakistan

Ahsan Mehmood

Lahore General Hospital, Lahore Pakistan
Keywords:
Choroidal thickness, Diabetic retinopathy, Diabetic macular edema, Optical coherence tomography
Abstract
Objective: To evaluate central macular thickness and choroidal thickness in patients with macular edema due to diabetic retinopathy versus controls.
Study Design: Cross-sectional comparative study.
Place and Duration of Study: Department of Ophthalmology, Lahore General Hospital, Lahore, from Jan to Jul 2018.
Methodology: A retrospective data of 100 eyes from 50 patients having with diabetic macular edema associated with diabetic retinopathy was extracted from hospital registry. Additionally, 100 eyes of 50 individuals without any preexisting ocular conditions, comprising a control group was included in the study. Choroidal thickness measurements were made from the posterior edge of the retinal pigment epithelium to the choroid/sclera junction at subfoveal level using optical coherence tomography. Central macular thickness was also measured for all the enrolled patients.
Results: One hundred patients fulfilling the inclusion criteria were enrolled in our study. The mean age was 56.27 ± 14.41 years. The mean Central macular thickness of all the patients were reported as 270.49 ± 72.38 μm, while the choroidal thickness was 284.89 ± 96.51 μm. There was statistically significant difference in central macular thickness between both healthy and diabetic retinopathy with diabetic macular edema groups (p=0.001), whereas insignificant difference existed between the two groups forchoroidal thickness (p=0.735).
Conclusion: In patients with diabetic macular edema no significant change in choroidal thickness was observed compared with healthy controls, while the thickness of the retina was high in patients with macular edema due to diabetes.
Downloads
Download data is not yet available.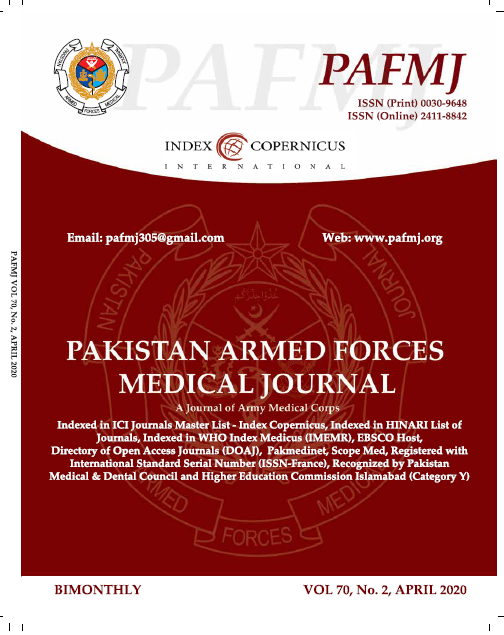 How to Cite
Aqil, A., Moin, M., Abid, K., & Mehmood, A. (2021). CHOROIDAL THICKNESS IN PATIENTS WITH DIABETIC MACULAR EDEMA. Pakistan Armed Forces Medical Journal, 71(2), 433-37. https://doi.org/10.51253/pafmj.v71i2.3286
Section
Original Articles